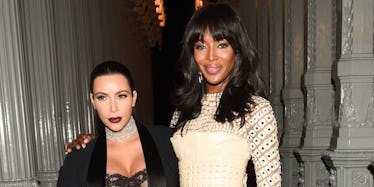 Naomi Campbell Feared For Her Life During Scary Paris Robbery, Just Like Kim K
REX/Shutterstock
In early October, Kim Kardashian was robbed at gunpoint by two masked men in her hotel room in Paris, France.  The thieves reportedly got away with roughly $10 million worth of jewelry, and Kim Kardashian was left shaken and scarred.
Now, it appears Kim K wasn't the first beautiful female celebrity to be accosted in the City of Lights.
According to the Associated Press, supermodel Naomi Campbell was the target of an attempted robbery in Paris in November 2012.
The 46-year-old British model and actress joined the set of "The Wendy Williams Show" Thursday and described in painstaking detail her harrowing experience in Paris a few years ago.
So, here's what went down: Naomi Campbell reportedly opted to dispatch with her normal security team during a brief trip to Paris.
Campbell recalled she arrived outside the home of fashion designer Azzedine Alaia, and that's when shit popped off.
Speaking with Wendy Williams about the Kim Kardashian robbery, Naomi Campbell said,
I sympathize with her a lot because I kept mine pretty down low, but, in 2012, I was attacked in Paris. I was attacked in Paris. They followed me from the airport. They attacked me. I didn't make it so public. I didn't want it to be.
Naomi Campbell stated a person opened her car door and said,
Naomi Campbell, we're going to kill you.
WTF??? This is unbelievable scary. Imagine pulling up to the store or something and someone tells you to get ready to die.
Unlike Kim Kardashian, though, Campbell was lucky enough to avoid being robbed or being harmed.
Apparently, the 46-year-old was able to fend off the would-be thieves long enough for folks to emerge from Azzedine Alaia's house and save her.
Holy hell! This story is so wild. Why are we first hearing about this now?
In any event, I'm just glad Naomi Campbell was able to keep her belongings and emerge from the situation relatively unscathed.
Citations: Naomi Campbell reveals she was almost robbed in Paris (Associated Press)