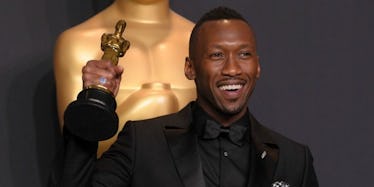 'Moonlight' Star Mahershala Ali Strips Down For Sexy Calvin Klein Shoot
REX/Shutterstock
We need to tally up another huge win for Mahershala Ali and his "Moonlight" co-stars.
Sunday night, the 43-year-old Ali became the first Muslim actor to win an Oscar.
The "Moonlight" star received the award for Best Actor in a Supporting Role, and he had everyone in attendance at the 2017 Oscars, as well as those watching around the world, in tears by the end of his acceptance speech.
In his speech, Ali thanked his teachers and others. He said,
I want to thank my teachers, my professors. One thing they consistently told me was that it wasn't about you. It's not about you, it's about these characters, you are a servant. You're in service to these stories and these characters.
Ali was the first Oscar winner of the evening, and, though it happened after an extremely awkward and epic Oscars fail, "Moonlight" also closed the show after the movie was crowned Best Picture winner.
So, how did the cast of "Moonlight" follow up their big Oscars night? By stripping down to their underwear for a Calvin Klein photo shoot, of course!
Monday morning, Calvin Klein rolled out a brand new ad campaign featuring the men of "Moonlight," and let me tell you, these guys shine just as bright in their underwear as they do on the big screen.
Mahershala Ali was joined by Alex Hibbert, Trevante Rhodes and Ashton Sanders for the shoot, and I think I need to shut up so you can check out the photos.
Speaking on having members of the "Moonlight" cast star in the CK photo shoot, the Chief Creative Officer of Calvin Klein, Raf Simons, said,
It's an acknowledgement of remarkable actors who are revealing something important of being a man today in what they do.
Creative Director of Calvin Klein, Pieter Mulier, added,
Since the beginning, Calvin Klein's underwear imagery has always made big statements about masculinity; the performances of these actors in "Moonlight" affected us deeply and made big statements about masculinity in a different way. Somehow we wanted to bring the two together.
Mission accomplished, Pieter.
Citations: 'Moonlight' Stars Pose in Only Their Underwear for Calvin Klein After Big Oscars Win -- See the Pics! (Entertainment Tonight)