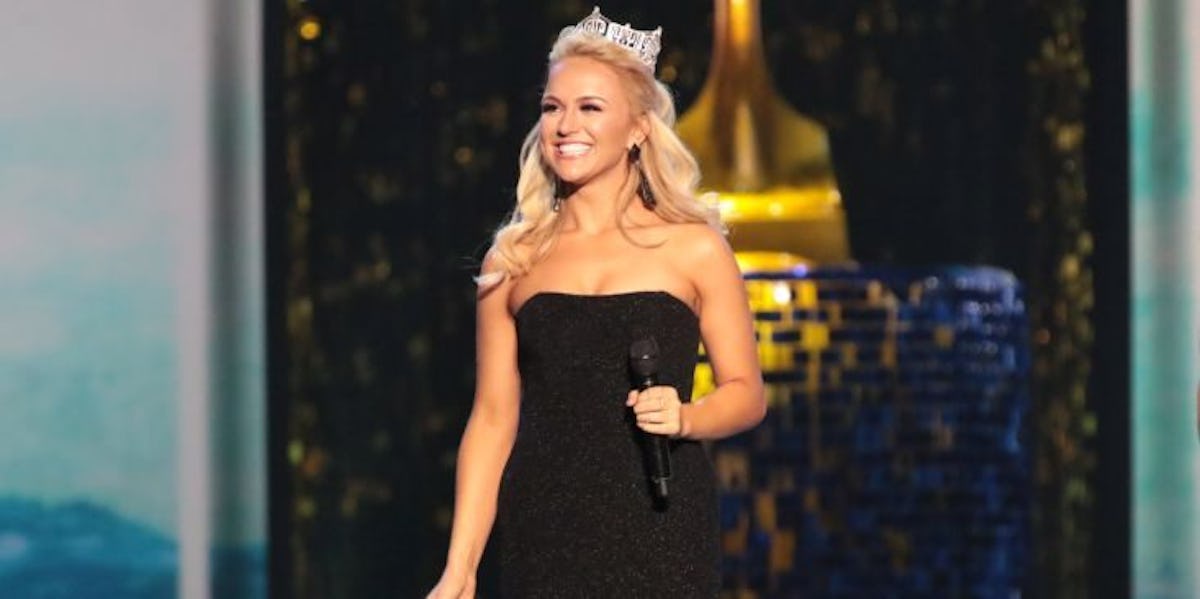 What Is Miss America 2017 Doing? Here's What Savvy Shields Is Up To
(Photo by Donald Kravitz/Getty Images for Dick Clark Productions)
The Miss America 2018 pageant will air this Sunday night on ABC, where yet another lucky young lady will be crowned. Ahead of the prime time special, which represents the final portion of the competition, this week has been all about the preliminary rounds to help whittle the field down from 52 to a more manageable 15, then 12, and so on. On hand to cheer these girls along was Miss America 2017 Savvy Shields, whose reign is drawing to a close.
While this week sees Savvy Shields (full name Savannah) working overtime to help those who would be her successor through their preliminary rounds on the way to Sunday's showdown, that's not all Shields has been up to recently. The 22-year-old Arkansas native has spent the last year on the road, representing the organization that crowned her in every last one of the contiguous 48 states.
To her, all this is worth it, because she's earning her right to the scholarship money that comes with the crown. And in this day and age, with college debt being one of the biggest issues for 20-something millennials set to graduate from universities (and a huge burden on the 30-something millennials who are still paying themselves out of their tuition years), $90 thousand in education money is nothing to sneeze at.
As Shields says:
People forget and people don't really know that [Miss America] is the largest scholarship organization in the world. I am still walking away with over $90K in scholarship that I haven't even touched. I can graduate college debt-free and go for more education, not even having to worry about it. I'm not just speaking for myself, I'm speaking for every single contestant, national, state, and local title-holder that is a part of this organization.
For her, this has also been an opportunity to meet people who she might never have been exposed to, across the country. And while some in her generation may feel down about the state of the world, she says meeting all these people has given her hope for the future.
When people ask 'what's your plan afterwards?' or 'what's your goal?' my answer is everything because I've seen and been exposed to so many charities, philanthropies, people that I've become emotionally invested in. And so it's exciting to learn what I've done as Miss America and use it in my life
With the crown about to come off, Shields says what she looks forward to his having more time for crafting (knitting is one of her major hobbies) as well as getting to eat a little bit more like a normal person --her indulgence is vanilla ice cream. (Can you blame her? It's starter decadence. It takes time to build up to such debauchery as cheesecake.)
As for the best advice she got last year that she hopes is passed on to everyone competing for the crown in Atlantic City on Sunday:
I think the biggest thing, and it's something my class tried really hard to reiterate, was recognizing that we're not here to win the crown. That is something one girl will walk away with, but there's 51 other women [who] are going to be there… You're there with these girls. You're soaking up every single moment. And the goal shouldn't be walking away with the crown, but the goal should be walking away a better version of yourself than when you came.
Considering that 51 of 52 women won't be walking away a winner this weekend, that's solid, sound advice. Every experience can shape you, if you let it, and it sounds like Shields has learned that lesson just fine. Let's hope whoever it is that succeeds her on Sunday makes the same choice.