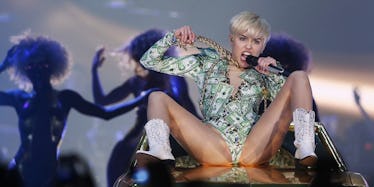 Miley Cyrus Is Apparently Sending Pictures Of Herself Peeing To Her Friends
REUTERS
Do you realize… 
that everyone you know someday will pee?
And instead of peeing all alone sometimes,
let friends know you're peeing now 'cause life goes fast.
Text them pics; your pee won't last.
You realize your pee 'gon flush down,
It's pee, tissue and water in the bowl spinning 'round.
In a recent interview with The Guardian, Wayne Coyne shared the touching origin story behind his and Miley Cyrus' inevitable friendship.
On January 13, 2014, Miley tweeted the Flaming Lips frontman birthday wishes, regarding him as "one of [her] favorite artists OF alllllll time."
He said,
I tweeted her back my phone number and said: 'Text me' …Since then, we've texted each other every day. I'll say, 'What are you doing?' and she'll send me pictures of herself peeing. Sometimes it's 1,000 times a day, sometimes it's a couple of times a day, but we're always in each other's lives.
Aside from being two sentient Lisa Frank pencil cases, the pair share a love for psychedelics and shit-talking friends who front re: psychedelics.
Wayne recalled a charity dinner during which Miley quietly outed A$AP Rocky as what seasoned recreational drug users call a big-time faker.
The 56-year-old said,
He'd just got a new set of gold teeth, braces things, and he was talking about taking acid… In between, Miley was whispering: 'He's never really taken acid. He's just saying that because he wants to write music about taking acid.' He would keep talking and she would go: 'He doesn't know anything about acid.' She'd know. Cyrus has done acid plenty.
Regardless of whether A$AP has dropped any acid since being such a grade A fibber about it, Wayne cites his music as an influence that helped shape the Flaming Lips' newest album, "Oczy Mlody."
Miley makes a cameo on the"Oczy" track "We A Famly," though her work on 2014's "With a Little Help From My Fwends" is what truly helped solidify her and Wayne as bestie collaborators.
When asked whether the 24-year-old has a new record of her own in the works, Wayne told the site,
She's going to keep being a judge on 'The Voice,' but I know she wants to make music at the same time… I'm thinking of a way we can make a record without her having to sit there for months and months. I think she likes it when it's like: 'You guys do some of the work, and then I get to come in and do something really cool.'
Wayne and Miley will likely find an arrangement that allows her to do just that and, in the event she doesn't offer it up for free (like she did with their last collab, "Miley Cyrus & Her Dead Petz"), I will happily give them all my money in exchange for that weird-weird.
Citations: Wayne Coyne on Miley Cyrus: 'She sends me pictures of herself peeing' (The Guardian)