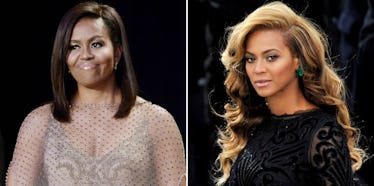 Michelle Obama Strongly Suggests Not To Look Beyoncé In The Eye
REX/Shutterstock
The first lady had plenty to say after she was asked about Beyoncé.
Since just about anyone with a pulse is deeply in love with 35-year-old Queen Bey, it's quite comforting that Michelle Obama was willing to step forward and talk about how amazing she really is.
See, nothing Beyoncé does is a lie. She actually is that damn perfect -- and Michelle Obama's latest interview proves just that.
During her appearance on "The Late Show With Stephen Colbert," Obama started off by jokingly saying,
You shouldn't look her in the eye.
You know, this isn't the first time someone's expressed how shy one can get around Beyoncé. Remember when DJ Khaled said the only person that makes him nervous is Blue Ivy's mom?
This seems to be a common trend, only I don't think Michelle Obama is necessarily nervous -- she just knows what it's like to make other people nervous, just like 'Yoncé.
The 52-year-old first lady continued,
She's a special person. She's a sweetheart. She's smart, she's creative, a great mother, she loves her family. She's just a low-key lady. We have a lot in common in that way, except I can't sing, I can't dance — not like Beyoncé.
The best part about this whole thing? Beyoncé loves Michelle Obama just as much as Michelle Obama loves Beyoncé. God damn it, if this isn't best-friendship #GOALS, then I'm not sure what is.
Beyoncé penned a heartfelt letter dedicated to Michelle back in 2012, stating,
Every time I see her, she inspires me, she empowers me, she encourages me to live a healthy lifestyle. I'm proud to have my daughter grow up in a world where she has people like you to look up to.
How sweet is that?! The letter didn't go unnoticed (obviously, she's Beyoncé). Michelle Obama replied with a few kind words of her own, saying,
Thank you for the beautiful letter and for being a role model who kids everywhere can look up to.
The stamp of approval for their BFF bond came when Michelle Obama wished Bey a happy birthday on Twitter last year and included a bumblebee emoji.
It doesn't get any better than this...
On top of that, Michelle couldn't contain her excitement before Beyoncé's epic Super Bowl performance.
Alright... Now, I don't know if these two ever plan on maybe starring in a movie together or shooting a reality show... Hell, I'll take a joint Twitter account from these two. But please, the world needs more Beyoncé and Michelle Obama.
Two bosses that make the world weak in its knees -- what a perfect friendship.
Citations: Michelle Obama Jokes About Beyonce: 'You Shouldn't Look Her In the Eye' (US Magazine)