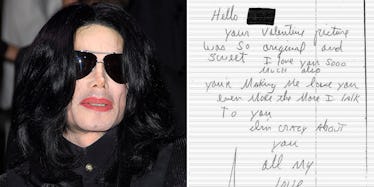 Woman Says Michael Jackson Sexually Abused Her, Reveals Creepy Love Notes
REX/Shutterstock/Public Records
A woman has come forward to accuse Michael Jackson of sexually assaulting her when she was just 12 years old.
The woman claims the singer paid her $900,000 to keep the abuse a secret and sent her several creepy love notes when she was just a child.
In the collection of letters, Michael Jackson allegedly tells the woman he "loves her" and is "crazy about" her.
One of the handwritten notes reads,
Your Valentine picture was so original and sweet. I love you sooo much also you're making me love you even more the more I talk to you. I'm crazy about you. All my love Michael, the Monopoly King.
Another says,
I really like talking to you. And you are so sweet. But you cannot play Monopoly. But I love you and miss you very much. All my love Michael.
The woman filed the lawsuit under the name "Jane Doe" and is suing for emotional distress and negligence, according to the DailyMail.com.
The alleged victim also detailed the abuse that took place when she visited Michael Jackson inside his home.
The lawsuit claims the singer invited her to see his "candy area." He allegedly kissed her mouth, fondled her genitals and sexually abused her.
The woman says the abuse went on until she was 15 years old, but Jackson sent her hush money to keep quiet. From 1993 to 1996, the woman received more than $900,000. Included in the lawsuit are copies of the checks and stubs.
TMZ updated its site at 2:30 pm on Tuesday afternoon with a statement from Michael Jackson's estate attorney:
This is yet another attempt to hit the lottery by suing the Estate of Michael Jackson more than seven years after Michael's death and close to 30 years after these incidents supposedly occurred. We believe this claim was created from whole cloth and is without any merit. It's also no coincidence that this woman is represented by the same attorneys involved in two other frivolous claims against the Estate.
The woman is the first female to come forward as a victim of sexual assault by the singer, but Michael Jackson has been accused of abuse several times in the past.
Choreographer Wade Robson, for example, filed a lawsuit against MJJ Productions and MJJ Ventures claiming Michael Jackson operated the "most sophisticated public child sexual abuse procurement and facilitation organization the world has known."
Robson says he was abused by the King Of Pop in his Neverland Ranch home when he was just 5 years old.
In 2005, Jackson was cleared of 14 counts of allegations against him, but more abuse claims have clearly emerged since his death.
Citations: Michael Jackson Love Notes To Woman (DailyMail.Com), Wade Robson Michael Jackson Abuse (People), Michael Jackson Sexual Abuse (TMZ)