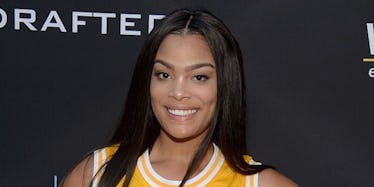 Mehgan James Claps Back After Haters Say She Faked Relationship With Rob Kardashian
Dave Mangels/Getty Image
Last week, the world was alarmed to hear sweet, little baby brother Rob Kardashian had finally moved on from his baby's mama, Blac Chyna, and was dating again.
The father of baby Dream was rumored to be dating reality TV star Mehgan James of Bad Girl's Club and VH1's Basketball Wives LA. 
In fact, a source allegedly close to Mehgan told People the two had been "really close friends for about three months."
Anddddd, cue the record scratch.
Just a day after the rumor started populating, Rob took to Twitter to shut the chatter down, posting:
Wait reading online about some chick I'm dating Megan something. Not true never even met her or heard of her before
So, everyone calm down.
Since the tweet, rumors began circulating that Mehgan made their relationship up to garner fame and attention for herself. To which Meghan says, (in so many words), NOPE. Not true.
In an Instagram post that has since been deleted, Mehgan allegedly had a LOT to say. She originally shared the TMZ report claiming that it was her who started the story and appeared to write,
1) I did not fake anything . Like I said I never confirmed that I was dating rob. Any one that asked I told them it was not true... It takes two people to fake a relationship , any one who fakes a relationship by themselves is a complete idiot !!
Additionally, James appeared to be adamant she doesn't need Rob to build her career.
2) I've been working in entertainment since I was 18 I've done a multitude of Tv shows as well as a couple films .As well as have had over half a million social media followers over two years ... OH wait , I have a college degree and AM a vendor for one of the MOST POPULAR clothing companies online right now. So for FAME? Y'all are REACHING!
She concluded with one, little, sweet dig at Rob.
Like I said in a previous post, im just 'Mehgan something' that most of you never even heard of!!! So how would I have the power to MAKE UP A BS STOTY [sic] and get media outlets to RUN IT?? How sway? If I ever wanted to fake a relationship with a rich white guy it would be PRINCE HARRY!!!!!!!!! Not rob Kardashian!!!
You can see her full statement in the tweet, which appears to show the deleted post, below.
Let's be honest. In the history of false relationships, short-term romances ,and drama the Kardashians have seen, we imagine everyone will bounce back from this pretty quickly.
Live long and Kardashian, as they say.
Citations: Mehgan James Slams Rumors That She Leaked Rob Kardashian Romance News, Then Deletes Post (US Weekly), Rob Kardashian Is Dating Reality Star Mehgan James (People)