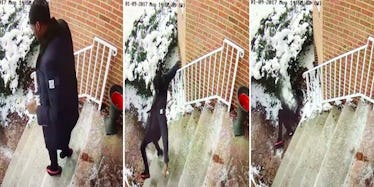 Meek Mill Posts Video For The Haters Of Moment He Slips On Ice And Face-Plants
Instagram
Take that, haters! Meek Mill has no shame.
On Tuesday, January 10, Meek Mill shared a hilarious video on Instagram of him slipping on ice and falling flat on his face.
He captioned the photo.
They spoke a L into existence
He continued to give a little context to the situation, saying,
Leaving out my mom house was tragic for me! Icey ass steps!!! U fall get right back upppp!
It looks like the 29-year-old's mother forgot to clear the ice off those steps. Sorry, Meek! Mama's tired.
The rapper also threw in a joke and added,
I ran I thought a ghost pushed me! I might sue yeezy! SINCE YALL WANNA SEE ME FALL SO BAD!!!!
OOOOOOOOHHHHHHHH, the kid's funny! YOU GOT JOKES, MEEK MILL?
The video has been viewed almost two million times, and people can't seem to get enough of it...especially the joke at the end.
The rapper seems to still have a great sense of humor, despite going through a recent breakup with longtime girlfriend Nicki Minaj.
For the most part, fans aren't too surprised the couple decided to split because Nicki hinted they were headed toward a breakup.
In December, Nicki posted a cryptic message on Instagram that most likely was directed at her man.
The message said,
Your value doesn't decrease based on someone's inability to see your worth
Ouch, shots fired.
Fans on Twitter found Nicki Minaj's single status amusing, of course. Meek Mill ain't the only one who has jokes!
Yo Drake, where you at?!
Well, I wish Nicki Minaj and Meek Mill both the best as they pursue their different paths. It looks like Meek was off to a rough start, but the kid's back on his feet.
Hang in there, big guy. Wear your snow shoes next time.