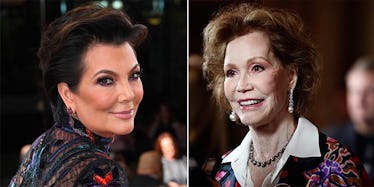 Kris Jenner Reacts To Death Of 'Pioneer For Women' Mary Tyler Moore
REX/Shutterstock
The iconic actress who challenged gender roles in the workplace on TV, Mary Tyler Moore, died on Wednesday. She was 80 years old.
Her cause of death was cardiopulmonary arrest after she contracted pneumonia.
Moore's rep told People,
Today, beloved icon, Mary Tyler Moore, passed away at the age of 80 in the company of friends and her loving husband of over 33 years, Dr. S. Robert Levine. A groundbreaking actress, producer, and passionate advocate for the Juvenile Diabetes Research Foundation, Mary will be remembered as a fearless visionary who turned the world on with her smile.
In many ways, women in entertainment and the workplace have a great debt to pay to the actress.
She showed a new type of woman on her beloved sitcom "The Mary Tyler Moore Show," where she starred as as a single working 30-something woman in the '70s.
The show, which she also produced, showed her character working at a local news station and its feminist message is still as important now as it was during it's seven-year run.
She was as fearless as Mary Richards as she was in her career -- taking roles that challenged her, including "Ordinary People," which was much darker than anything she had done. It earned her an Oscar nomination.
She has inspired a number of actresses, writers and fearless women...
Including, Kris Jenner, who posted on Instagram a tribute to the late star.
Jenner wrote,
A true beauty, a screen legend and pioneer for women, you will be so greatly missed, Mary Tyler Moore. Thank you for the laughter and the light you brought to us all through the years. #youturnedtheworldonwithyoursmile
Other stars shared their memories and how Moore inspire them.
Carol Burnett, another comedic icon, said of Moore,
She was a pioneer on television and also one of the sweetest, nicest people I ever knew.
"Jane the Virgin" and "Orange is the New Black" star Diane Guerrero wrote on Instagram,
When I was a little girl I would watch re-runs of Mary Tyler Moore and this image has been forever ingrained in my memory. I thought, "hmm maybe I too can throw my hat up in the air like that one day" Love is all around no need to waste it You can never tell, why don't you take it Your gonna make it after all.
"Crazy Ex Girlfriend" creator and star Rachel Bloom tweeted:
Jesse Tyler Ferguson remembered meeting Moore on "Hot in Cleveland."
Co-anchor of the "TODAY Show," Savannah Guthrie, nodded to her reporter character:
Mary Tyler Moore will be missed.
Citations: Robert Redford, Carol Burnett and More Stars Pay Tribute to 'Rare and Enormously Powerful' Mary Tyler Moore (People)