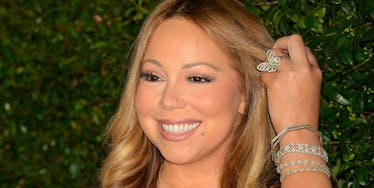 Photos Of Mariah Carey Leaving Weed Dispensary In A Gown Will Give You Life
REX/Shutterstock
If you witnessed Mariah Carey's mortifying live performance on New Year's Eve, you're aware the pop star didn't ring in 2017 on a very "high" note.
However, we can all assume the singer is feeling just fine now, thanks to a few photos that surfaced of the glam-queen leaving a weed dispensary in Aspen, Colorado.
That's right: The superstar was spotted a few days before her NYE meltdown leaving a weed shop in one of the few lucky states where marijuana's legal.
Needless to say, I've never seen a sassier shopper before in my life.
As you can see, the photos show Mariah leaving the dispensary in a long gown that flares out at the bottom.
Oh! It's green, too. I'm going to go ahead and assume that was a planned outfit choice to fit the mood of her smoky surroundings.
Leave it to Mariah to color coordinate an extravagant getup for a classy weed spree. If I were her, I'd probably settle for a pair of sweats and a hoodie.
But this is Mariah we're talking about!
Of course she's shopping for bud in a gown fit for royalty.
Aside from the forest green dress, the 46-year-old was rocking snazzy sunglasses, a black winter hat and some rad gloves.
I don't know about you, but Mariah Carey leaving a dispensary looking this fabulous is making me want to get a makeover, hop on a plane and head to Colorado.
(The last time I was at a dispensary in Colorado I lost my ID and had to sit in the waiting room while all my friends bought weed-infused chocolate, so I'd do anything to go back for a gram looking like Mariah.)
Plus, look at how damn happy Mariah looks as she's walking out of the shop.
Personally, it's making my heart warm to see photos of her smiling after she completely botched a performance on live TV Saturday night (keep smiling, Mariah).
You know what? Maybe -- just maybe -- a few dots are connecting now.
What if Mariah took a hit of the weed she bought in Colorado before the performance, which caused her to forget the lyrics in a state of hazy bliss?
OK... sorry. I should stop assuming things like this and stick the facts.
All we know is that Mariah Carey shops for her marijuana looking like a goddamn green queen -- and it's giving us life.
You go, girlfriend.
Citations: This Picture Of Mariah Carey Leaving A Weed Dispensary Is Truly Ridiculous And Amazing (BuzzFeed)