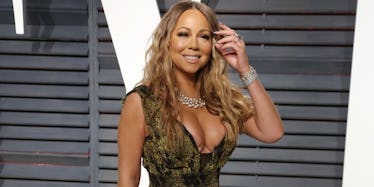 Mariah Carey Had A Nip Slip At The Oscars And No One Noticed
REX/Shutterstock
Mariah Carey slipped a nip on the Oscars red carpet and no one even cared because maybe we're all finally learning to stop freaking out over areolae.
Mariah wore a plunging black and gold cheetah print dress to the Oscars and, despite having years of experience sharing her cleavage with a grateful America, flashed a teeny bit of nipple.
Perez Hilton shared a pic of Mariah's squashed boobies on Instagram, captioning the pic, "This is how I feel right now — her breasts."
So true. We are living in an era of fear and uncertainty. Surely Mariah's boobs don't enjoy being mushed into a prison of silk and mesh, but they should have considered that when they voted for Trump (JK. I have no clue who Mariah's boobs voted for or in which state they are even registered).
The truth is, everyone's nipples are a fraction of an inch away from exposure at any awards show.
During a pre-Oscars interview with Elite Daily, "Fashion Police" star Melissa Rivers commented on the ubiquity of the plunging neckline and what that means for the women who wear it.
She said,
You've gotta use a lot of tape and stand up super straight. And the hard thing isn't standing up and walking… the hard thing is sitting… I mean, literally there's stories about people — and we've all done it — laying across the back seats of cars so that you don't wrinkle before you get to the carpet.
See? As an Oscar attendee, even if you cover your chest up to your damn neck, the rest of your body is poured into a ribbed sausage casing and shipped off to the Dolby Theater like lunch.
Hopefully there's a future in which everyone just wears sweats to the Oscars or stays home and waits for the results to post online.
A Mariah can dream.