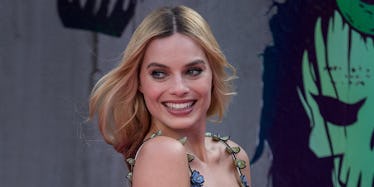 Margot Robbie Knows The Ultimate Way To Relax Is Drinking A Shower Beer
REX
What do Margot Robbie and I have in common? We both enjoy beer showers.
No, this isn't a beauty or health hack of any sort. A beer shower, not to be confused with actually bathing in beer, is drinking an ice cold brew in a warm, steamy shower. Sounds relaxing, right?
The "Suicide Squad" star explains,
When I did 'Whiskey Tango Foxtrot,' I was saying, 'Oh, my God, I can't wait to go home,' and Tina Fey's costume lady was like, 'Me too. I can't wait to go home and have a beer shower.' I was like, 'What's a beer shower?' She said she drinks an ice-cold beer in a boiling-hot bath or shower, and it made her sleep. I was like, 'That sounds perfect!' So now when I get home from work, I have a beer shower or a beer bath if I have time.
That costume lady forever changed Robbie's life for the better. I'm telling you.
My college housemates never understood why I used to take a beer into the bathroom before showering. I would tell them how relaxing it is to drink a cold one in there. They would throw me some shade and be like, "OK, Talia."
Now that Margot Robbie does it, though, maybe they'll all hop on the shower beer bandwagon.
I had a boyfriend who turned me on to it, but he wasn't drinking beer in the shower to relax, he did it as part of his pregame routine. Classic college move, amirite?
But I've always sworn by shower beers as a way to wind down. Meditation isn't my thing.
If you love beer and haven't tried this, I hope you give it a whirl sometime this week and thank Margot Robbie later.
Citations: Margot Robbie Takes a 'Beer Shower' Every Night, But It's Not What You Think (US)