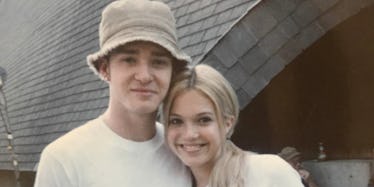 Mandy Moore's Throwback Pic With Justin Timberlake Will Make You Feel 12 Again
Instagram
I don't know about you guys, but I'm missing '90s-era Mandy Moore like canday-ayyyy. Thankfully, Mandy just took all of her Instagram followers for a quick trip back in time to relive her bubblegum pop beginnings.
Mandy most definitely won Throwback Thursday this week by posting an incredible old shot of herself and Justin Timberlake from back when they were a pair of teenage pop stars on a tour together.
And just in case you couldn't tell it was most definitely the '90s from the Abercrombie shirt and JT's bucket hat, Mandy points out that the photo is from 1999 in her caption.
Mandy also pointed out her "nervous smile" in the pic, which would have made sense since this would have been her first-ever tour, and she was opening for one of the biggest boy bands in the world, *NSYNC, as a completely unknown 15-year-old. She wouldn't even officially release her debut single "Candy" until toward the end of 1999.
And apparently, Mandy Moore's nerves were getting to her a lot on the first tour with *NSYNC.
In an interview with James Corden a few months back, Mandy recalled walking backstage while a bunch of back-up dancers and the guys from *NSYNC were randomly comparing feet sizes, and Justin commented that she had large feet.
She says that comment really affected her, since she idolized JT.
Of course, Mandy Moore is more known for her acting that her music career these days, though I will say that I've noticed that in pretty much every single role she takes, she sneaks in a song.
Think about it: she sings in "A Walk To Remember," she sings "Stupid Cupid" in "The Princess Diaries," she sings at the beginning of "Saved!," and, of course, she makes up half the soundtrack of "Tangled." She even had a song in the early episodes of "This Is Us," as her character moonlights as a singer.
Anyway, that's just a random thing I noticed. The important thing to focus on is that Mandy Moore and Justin Timberlake might still be tight. They're both pop stars that are continuing to thrive past the '90s, and have diversified their portfolio to include acting and continued success in music.
Maybe they can get in the studio together sometime soon, or JT can guest star in an episode of "This Is Us" or something.
The only time Mandy and Justing have worked together in the past, aside from that '99 tour, was the 2006 sci-fi dramedy "Southland Tales." I think we're definitely overdo for another Mandy-JT reunion.