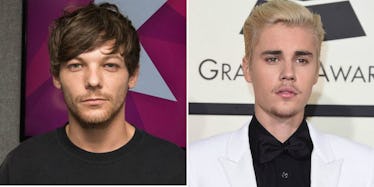 Louis Tomlinson Slams Justin Bieber For Canceling His 'Purpose' Tour
Gareth Cattermole/Jason Merritt/Getty Images
When Justin Bieber canceled the last legs of his Purpose Tour, fans were devastated. And now, Louis Tomlinson is coming to the defense of the fans. In a recent interview, Louis Tomlinson reacts to Justin Bieber canceling his tour, and he's calling Bieber out for not following through on his commitment to his fans.
To be fair, Louis Tomlinson/One Direction probably has just as many fans as The Biebs (if not more), and One Direction went on an insane number of tours during their time, so he does know more than a thing or two about being loyal to his fans. In the interview with 92.3 AMP Radio, Tomlinson said,
Obviously, you have to be in a good position mentally, but I also think, to a certain degree, when you're signing up to something, you should see it through. There's never enough that I can say or do for the fans.
He continued,
I get it, the whole game is so exciting and crazy. But at the end of the day, it's the people who are buying the records that are putting you where you are.
Bieber canceled the rest of his Purpose Tour to focus on his mental health and do some soul-searching, according to him and his team. The Purpose Tour had been running for almost two years, which is a really long time to be on tour.
Bieber told TMZ he was in need of some serious R&R. He said,
Yeah, everything's fine … I've been on tour for two years … Just resting, getting some relaxation. We're gonna ride some bikes.
To his fans, Bieber said,
I love you guys, I think you guys are awesome. Sorry if anybody feels disappointed or betrayed, it's not my heart or anything. And have a blessed day.
Both of the guys have a point, though. On Bieber's end, it's definitely necessary to focus on your mental health and check back in with yourself after long periods of stress and exhaustion. On Tomlinson's end, there's definitely something to be said for following through on your commitments, especially when that commitment is the result of a lot of fans spending a lot of money on your concert tickets.