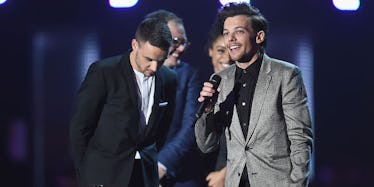 Louis Tomlinson Finally Reveals Name Of His First Solo Song And Fans Are Losing It
Ian Gavan/Getty Images
Louis Tomlinson has had an interesting couple of years full of highs and lows. His newest single, "Back To You," is dropping July 21, and everyone is freaking out. If the anticipation isn't enough, Tomlinson teased us with these sweet, sweet 12 seconds.
From the looks of the little bit that was shared, "Back To You" will definitely have a vintage vibe. It features BeBe Rexha and Digital Farm Animals. You may remember DJ Bebe Rexha from the epic Victoria's Secret birthday bash at Coachella, and Digital Farm Animals has put out summer hits like, "Digital Love" featuring Hailee Steinfeld.
Tomlinson has definitely come into his own during the past couple of years. He was recently featured on the cover of The Guardian's Observer where he dropped all sorts of truth bombs. Tomlinson said,
If you'd asked me a year or 18 months ago, 'Are you going to do anything as a solo artist?' I'd have said absolutely not ... You know I didn't sing a single solo on the X Factor ... A lot of people can take the piss out of that. But when you actually think about how that feels, standing on stage every single week, thinking: 'What have I really done to contribute here? Sing a lower harmony that you can't really hear in the mix? The kid wearing espadrilles, stood in't back.
OK, what?! Louis Tomlinson is a definite fan favorite and the fact that he was considering not returning to music makes me tear up a bit.
This came out at the same time when Tomlinson said he was the "forgettable" member of One Direction. *Holding back sobs*
Luckily for all the fans, it seems like Tomlinson has been spending a lot of time in the studio, according to his Twitter.
One thing is for sure: fans are HYPED.
I can't wait for "Back To You" to officially drop and to see what else comes from Tomlinson.