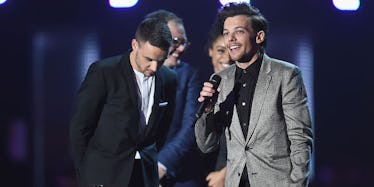 Louis Tomlinson Says He's The "Forgettable" 1D Member In Heartbreaking Interview
Ian Gavan/Getty Images
EVERYONE GET TO LOUIS TOMLINSON THIS INSTANT AND GIVE HIM A HUG RIGHT NOW IMMEDIATELY. HE NEEDS IT.
In a recent interview with The Guardian, former One Directioner Louis Tomlinson called himself the most "forgettable" member of One Direction.
He thinks he's forgettable!!! Literally, everyone go show him some love right now!!
Before saying the words that have left the internet crying, Tomlinson said he was the one member of the band who was trusted to break bad news to the label and who also paid the closest attention to what was going on backstage at their concerts.
He said, "And if there was any bad news that needed giving to the label I'd always be designated to have the argument."
He also revealed he struggled with his self-confidence during the 1D era. He said, "In the last year of One Direction I was probably the most confident I ever was. And then it was: 'OK, hiatus!'"
And then, THEN, he said the sad things. He said,
The others have always been… Like Niall, for example. He's the most lovely guy in the world. Happy-go-lucky Irish, no sense of arrogance. And he's fearless. There are times I've thought: 'I'd have a bit of that.' Zayn, back in the day. He could relate to me on a nerves level. In the first year we were both the least confident. But Zayn has a fantastic voice and for him it was always about owning that. Liam always had a good stage presence, same as Harry, they've both got that ownership. Harry comes across very cool. Liam's all about getting the crowd going, doing a bit of dancing … And then there's me.
Fans were quick to rectify this situation.
Most of them were like, "WTF. LOUIS, NO. THIS ISN'T TRUE. WE MUST CORRECT THIS NARRATIVE OR ALL HOPE SHALL BE LOST."
Tomlinson responded to all the love about the article and his news of an upcoming single in a tweet to his fans.
He said, "All the support has been amazing thank you ! Can't wait for you all the hear Back To You !"
"Back To You" is the aforementioned upcoming single coming from Tomlinson and his self-made record label, Triple String. (Yes, Tomlinson literally created his own record label. It's an imprint under Simon Cowell's label, Syco. Literally, Louis, you are doing a great job.)
Tomlinson already released his first solo single: an EDM collab with Steve Aoki called "Just Hold On." He's reportedly releasing his first solo album soon, but we still don't know the name or the release date.
He's also been really sneaky about the release of "Back To You," which will feature Bebe Rexha. Earlier this year, he hinted the song would be out by the end of June. And now, here we are, at the end of June, with Tomlinson telling us "Back To You" is actually going to come out at the end of July.
Ohhhhh, Louis. Louis, Louis, Louis. You sweet, poor, innocent, precious little bean with the face of a sunflower and hair that looks like it was dipped in Nutella. Literally no one in your fandom thinks you're forgettable.
And Twitter has archived proof.
RELEASE YOUR MUSIC ALREADY.