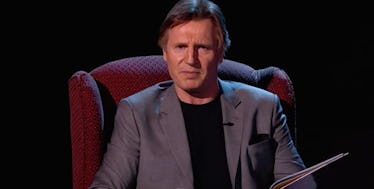 Liam Neeson Is The Last Person You'd Want To Read You A Bedtime Story (Video)
Liam Neeson has a particular set of skills, but I'm not sure it includes reading bedtime stories.
Neeson went on "Jimmy Kimmel Live!" and read "Five Little Monkeys Jumping on the Bed" to the studio audience.
However, in classic Neeson fashion, the actor lost his patience with the story and summarized it in a blunt and intimidating manner.
Simply put, I don't think Liam Neeson is the guy you want reading to your young children right before they are meant to go to sleep.
He will haunt their dreams. He already haunts mine.
Citations: Liam Neeson Reading You A Bedtime Story Will Make You Have Nightmares (Faf Mag)