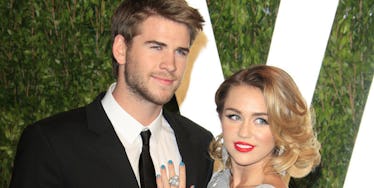 Liam Hemsworth May Be Missing Miley Cyrus' BBMAs Performance And We're So Sad
Shutterstock
Miley Cyrus and Liam Hemsworth have solidified their status as the cool, hot, popular couple in Hollywood's high school.
Sunday night, however, Miley is seemingly showing up to the prom that is the 2017 Billboard Music Awards solo.
Don't let that confuse you, though, the couple has definitely never been happier.
Miley Cyrus is set to perform her new song "Malibu" at the Billboard Music Awards, which is about her relationship with Liam.
In a recent interview with Billboard, Miley opened up about her relationship with Liam and revealed the romantic reason she wrote the new ballad about him.
Speaking on "Malibu," Miley said,
They're going to talk about me if I come out of a restaurant with Liam. So why not put the power back in my relationship and say, 'This is how I feel'?
Similar to even the most perfect high school couple, Miley and Liam have gone through plenty of ups and downs.
Miley and Liam took a break from their relationship in 2013, and Miley opened up about that as well, stating,
I needed to change so much. And changing with someone else not changing like that is too hard. Suddenly you're like, 'I don't recognize you anymore.' We had to refall for each other.
Miley, who notoriously does not walk red carpets, is definitely joined tonight by her parents and sisters. I'm sure we can expect the Cyrus clan cheering on Miley from the crowd.
So, although Liam may not be there supporting Miley, I would advise everyone to focus on their own Sunday night emotions, like the fact tomorrow is Monday and the brief taste of escapism you're feeling right now watching the Billboard Music Awards will slip away instantly when the clock strikes 11 and you'll have to accept your own anxieties, and not lose any sleep over his absence.