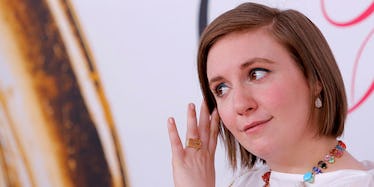 Lena Dunham Apologizes To Odell Beckham Jr. For Putting Him On Blast
REUTERS
Lena Dunham is sorry.
Dunham became the center of a controversy on Friday after having written publicly about an experience with Odell Beckham Jr. at this year's Met Gala. This afternoon, the 30-year-old actress publicly apologized for having "projected" insecurities upon the football player.
Dunham wrote in an Instagram post,
Despite my moments of bravado, I struggle at industry events (and in life) with the sense that I don't rep a certain standard of beauty and so when I show up to the Met Ball surrounded by models and swan-like actresses it's hard not to feel like a sack of flaming garbage. This felt especially intense with a handsome athlete as my dinner companion and a bunch of women I was sure he'd rather be seated with.
Here's her full Instagram message:
The Dunham-Beckham controversy started when a conversation between the actress and her friend, none other than Amy Schumer, was published in Lenny Letter.
Within the interview, Dunham discusses what she thought Beckham had been thinking as they sat next to each other at the Met Gala.
She said,
The vibe was very much like, 'Do I want to fuck it? Is it wearing a … yep, it's wearing a tuxedo. I'm going to go back to my cell phone.' It was like we were forced to be together, and he literally was scrolling Instagram rather than have to look at a woman in a bow tie. I was like, 'This should be called the Metropolitan Museum of Getting Rejected by Athletes.'
On Friday evening, she attempted to clarify her statements via Twitter.
This apology appears to be an expansion of her efforts to clarify her intentions.