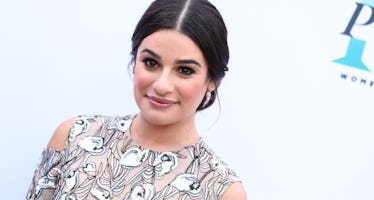 Lea Michele Showed Off Her Underboob In Sexy Album Cover Shoot
REX/Shutterstock
Lea Michele took to social media to give all of us an awesome preview of the cover shoot for her new album.
And you should all brace yourselves and sit the heck BACK because Lea's photos are seriously... sexy AF.
Let's just say things got super sexual, real quick on Instagram when the 30-year-old actress showed off some major underboob in a sultry black and white shot.
Props for working your turtleneck crop top and fishnet stockings like a TOTAL boss, Lea.
Keep on working it like the pro you are, girl.
The singer posted another picture from the album photo shoot, where she's slaying it up in a vintage floral dress.
To get into the cover shoot vibes, Nikki Lee from Nine Zero One Salon In West Hollywood colored Lea's gorgeous long locks...
And I'd say her hair was the cherry-topping to making her look photo shoot ~flawless~.
For real though, just look at this stunning picture and try to disagree (JK, you'll fail).
The "Scream Queens" superstar posted a message on her account praising her stylist, along with this prime shot of her never-ending mane.
She wrote,
Thank you @nikkilee901 for making me album cover ready and for bringing the bangs back today!
Over the summer we reported Lea went totally topless on the sand and posted a photo of it… because YOLO, it's freaking sizzling outside, OK?!
She was looking super glamorous posing on the beach, completely naked from her waist up.
Lea's got that straight-up beach goddess hair going like WHAT'S GOOD.
NOPE, TOTALLY NOT JELLY AT ALL.
*low-key wishing my crazy, uncooperative hair worked as beautifully as Lea's*
From this sexual black and white beach photo to the star's most recent underboob picture, it's safe to say Lea's casually crushing at life on the reg.
You keep doing you, girl.
Citations: Sultry singer Lea Michele flashes underboob and toned tummy in sneak peek of album cover shoot (Daily Mail)