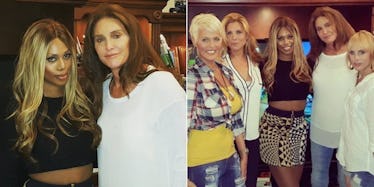 Laverne Cox And Caitlyn Jenner Finally Met At The 'I Am Cait' Screening
Caitlyn Jenner and Laverne Cox are both superstars.
They serve as inspirations to us all, and they are both making great strides for the transgender community.
But until this weekend, the two never met.
That all changed Sunday at a special screening of Jenner's new E! documentary series, "I Am Cait."
The pair took a couple of wonderful Instagram photos together, and they were also joined by other beautiful transgenders who came to show their support.
You can check out the excellent pics below.
Laverne and Caitlyn pose together.
And here's the whole gang at the screening.
Citations: Caitlyn Jenner and Laverne Cox Finally Got to Meet (Time)