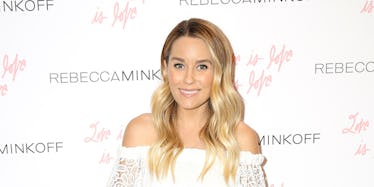 Lauren Conrad's New Baby Is Here, Has An Adorably Classic Name
Rachel Murray/Getty Images for Rebecca Minkoff
Congrats, Lauren Conrad, it's a boy!
The lifestyle guru and former reality TV star welcomed her first child on Wednesday afternoon, People reported. Their new little boy is named Liam James Tell, weighs 6 lbs. and 14 oz., and is 20 inches long. Welcome to the world, little dude!
"Mom, dad, and baby are doing well. We're already in love!" Conrad and her husband, William Tell, told People. They added that their dogs, Chloe and Fitz, "aren't so sure."
Well, canine approval or not, the Tells are now five.
Sadly, there are no photos yet of the latest arrival. But after the birth was announced, Conrad posted an adorable call for new-mom support on her website, with a picture of a cross-stitch needlepoint depicting a family of five, with mom, dad, and baby flanked by two dogs. Below is stitched out: "The Tells. And then there were 5..."
"If you have any advice for me as a new mother, I'd love if you left it in the comments," Conrad wrote on her website.
Less than an hour after the birth was announced, the comment section was already filling up with messages of congratulations, and yes, advice for the new mother.
Conrad announced the sex of her baby back in June, with an equally adorable birth announcement.
She also told Fit Pregnancy that she was "thrilled" to be having a little boy.
My husband kept saying, 'We just want a healthy baby.' And I'd say, 'But a boy would be nice!' I was a wild little tomboy, so I think I understand boys.
Conrad and Tell — who, by the way, have the sweetest how-we-met story ever — tied the knot in 2014. This is the first child for the pair.
Congratulations to the new parents! And of course, big siblings Chloe and Fitz. They'll get used to it eventually.