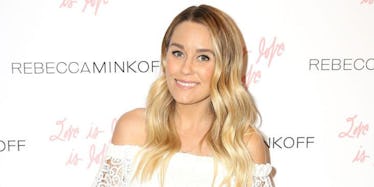 Lauren Conrad Launched An Adorable Swimwear Line Just In Time For Summer
Rachel Murray/Getty Images
Heads up, The Hills fans, your girl Lauren Conrad is finally making a swimwear line for you to rock all summer. Literally, why didn't she do this sooner? She's famous for living on a beach...
Anyway, the new line, called "The Beach Collection," will be available at Kohl's and you can already start shopping online. It features a bunch of really cute one-pieces, bikinis (that can be mixed and matched, according to Conrad), sunglasses, sandals, caftans, dresses, and more.
The least expensive item is priced at $34, and the most expensive comes in at $68, but the whole line really does provide some perfect summer staples.
The Laguna Beach alum (who is expecting her first child soon and literally looks better than me on my best day) spoke to Yahoo! Style about the launch of the line. She said,
I'm really excited to launch swim. It's a category I've been really excited to do a for a long time. It is bikinis, one-pieces, and then a bunch of coverups and separates that are very resort-esque. The overall vibe is tropical. We did some very fun colors, like hunter green and paprika, and then some really pretty peaches-and-cream.
The pregnant star says she doesn't believe being pregnant means she has to completely change her style. She says she still wears bikinis while at the beach, but she understands some expecting mothers might not be comfortable with that. She said,
For me, I just had to size up. So I still wear bikinis. I still wear the same styles as I did before, I just go for a bikini bottom and a bandeau. It is the easiest for me… But some people want to wear a one-piece, they want to be a bit more modest. I think it just depends how comfortable you are showing off a different shape. 
Conrad said she's actually the most excited to get her hands on one of the bikinis from the line. She told Yahoo, "I'm really excited to get into some of the bikinis at this point, because they haven't officially come out yet." Dang, even the designer can't get a bathing suit before everyone else?!
You can check out pieces of the line below!
One-pieces
Lace One-Piece Swimsuit, $51, Kohl's 
Scalloped One-Piece Swimsuit, $51, Kohl's 
Bikinis
Striped Bandeau Bikini Top and Bottom, $25 each, Kohl's 
Bandeau Bikini Top and Bottom, $25 each, Kohl's 
High-Neck Bikini Top, $25, Kohl's 
Palm High-Neck Bikini Top and Bottom, $25 each, Kohl's 
Maxi dresses
Crochet Maxi Cover-Up, $51, Kohl's 
Maxi Cover-Up, $48, Kohl's 
Tops and pants
Palm Tree Cover-Up Top, $36, Kohl's 
Cover-ups
Tropical Open Front Cover-Up, $36, Kohl's 
I don't know about you, but I'm gonna wear THE SH*T out of those white harem capri pants. They will hide all my flaws and probably feel like I'm wearing nothing.
That's the sh*t I like.
Buy the collection here.
Citations: Lauren Conrad Solidifies Fashion Empire, Launches Swim (Refinery29)