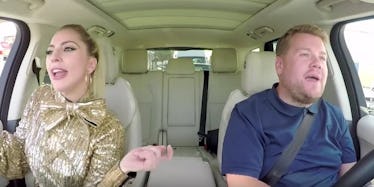 Lady Gaga's Road Rage Is Worse Than Yours In New 'Carpool Karaoke' Clip
YouTube
Lady Gaga is an open book.
There's not much we don't know about the flamboyant pop star... except maybe the fact she's got a pretty bad case of road rage.
A preview clip for the latest episode James Cordon's "Carpool Karaoke" begins on a hilarious note when Gaga gets aggravated at a nearby driver.
Mid-conversation, she sticks her head out the window in a state of rage and screams "MOOOVE!"
Calm down, girl! It's going to be OK!
Cordon then makes a joke out of her yelling and begins singing "Move Bitch Get Out Da Way" by Ludacris like a champ. Then, they break out their dance moves and forget about the road rage completely.
Smooth move, James... very smooth.
Needless to say, this duo is funny AF. I can't wait to watch the entire episode, which airs on October 25.
After the short road rage debacle, they break out into my favorite Gaga anthem "Bad Romance."
I HAVE CHILLS. I CAN'T WAIT.
Following their badass dance moves, the two role play Gaga's reaction to being asked to perform at the 2017 Superbowl (casual, I know).
The pretend they're the phone with each other; Cordon takes on the role of "Dave from the NFL."
He calls Gaga on her fake phone, and she answers with composed excitement regarding the offer. The exchange is adorable, to say the least.
Lady Gaga even tweeted about her experience with Cordon on "Carpool Karaoke," expressing how much fun she had on the show.
Had a lil fun with @JKCorden today! coming soon! #JOANNE #CARPOOLKARAOKE #MILLIONREASONS #PERFECTILLUSION pic.twitter.com/QBJh783QyB — JOANNE (@ladygaga) October 8, 2016
According to US Weekly, the singer is currently promoting her new record "Joanne," which was released on October 21.
With every day that passes, I'm getting more and more and more excited about Gaga's comeback.
I'm going to go listen to her record on repeat now. Bye!
Citations: