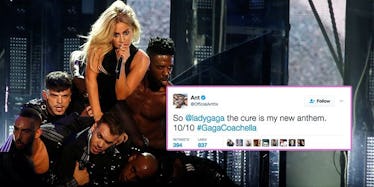 Lady Gaga Dropped Her New Single At Coachella And The Internet Is Obsessed
REUTERS
If you were blessed with the opportunity to attend the Coachella Valley Music and Arts Festival this year, you owe Lady Gaga big time.
Fresh off of making Super Bowl history earlier this year, the 31-year-old singer headlined the popular music festival in Indio, California on Saturday and left her fans stunned.
After performing an 18-song set featuring tracks like "Scheibe" off her Born This Way album and "LoveGame" off of The Fame album, Gaga generously unleashed her new single titled "The Cure."
The rumors are true, Monsters. It's finally here.
Just minutes following her electrifying performance, the internet was gushing over the Joanne singer's latest offering and rightfully so -- it's a HIT.
Watch Lady Gaga debut her new single "The Cure" at Coachella.
Fans are already declaring the new single a success.
It's that good!
The proof? Well, within hours after its official release, "The Cure" was already number one on iTunes in the United States.
The song was listed number one in other countries soon after.
And just like that, it's happening...
SUCCESS!
Did we really expect anything less from Gaga, though?
After all, chart-toppers are her thing!
Get ready to have it stuck in your head!
Listen to the new song below.
At this point, grateful fans are trying to figure out whether or not the new single means Lady Gaga is indeed working on her next major release.
The track could very well be a one-off single or even part of a Joanne reissue, as reported by Rolling Stone. What we do know, though, is the new song comes only six months following the release of Joanne.
The star did reveal to the crowd at Coachella she's 100 percent "back in the studio."
If you ask me, that sounds like an entirely new project is headed your way! Then again, with someone as unpredictable as this woman is, you just never really know...
Lady Gaga is set to return to Coachella for its second weekend on April 22.
Citations: Lady Gaga debuted new song 'The Cure' at Coachella and now we just want to dance (Mashable)