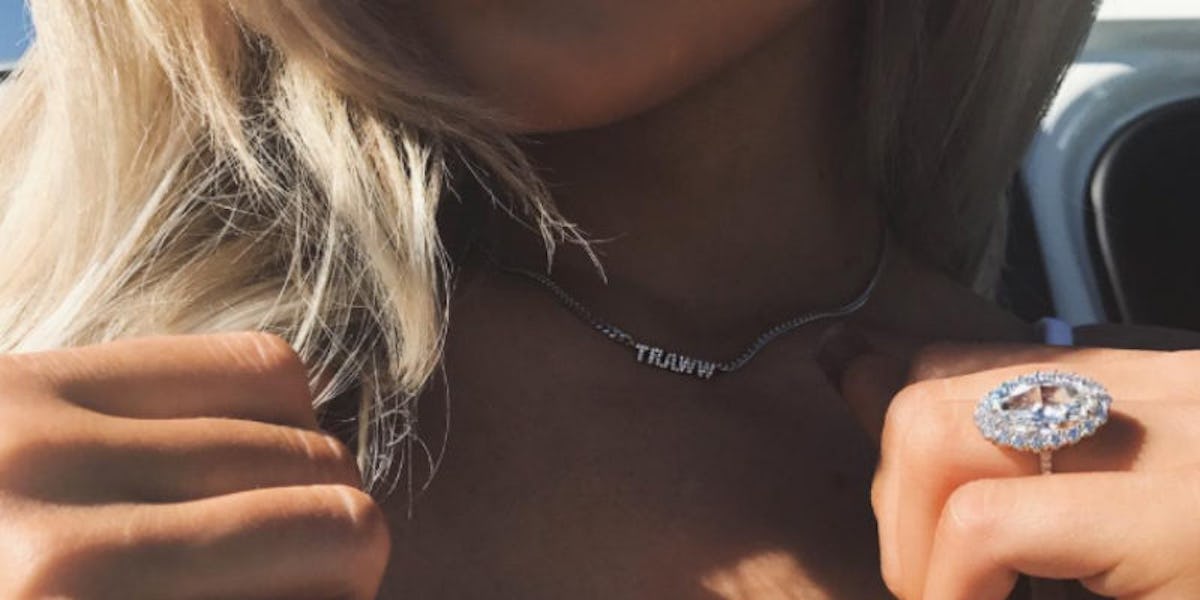 Kylie Jenner Is Literally Wearing Her Love For Tyga With This Expensive Necklace
Instagram
This may just be one step away from getting a neck tattoo dedicated to the man.
Kylie Jenner, 19, showed off her love for her boyfriend Tyga, 26, while walking in Los Angeles on Tuesday.
It reads "T-raww,"  which is another nickname for the rapper. Not sure I would wear anyone's name on my neck like a collar, but to each their own.
He posted a closeup of the image on Instagram with the caption "Feel me."
That is some legit bling though.
Also, can we talk about that rock on her wedding finger? Are the two actually engaged, or is this just a promise ring?
Just before also posting a picture of the necklace to her own Instagram, Kylie uploaded this picture.
She wrote,
They don't know.
We don't know WHAT, Kylie?! That you and Tyga may be officially engaged?!
They probably aren't, but imagine if I broke that story.
I would be famous for literally zero seconds, but I would feel pretty important. It's still weird he dated her before she was 18, but whatever makes her happy I guess.
More likely, "They don't know" refers to the reality TV star being the voice of the band Terror Jr.
The members of the band Felix Snow, David "Campa" Benjamin Singer Vine (very long name) and a singer only known as "Lisa Terror," dropped their debut EP "Bop City" in October.
People started to suspect that the mystery singer was Kylie when she used their song "3 Strikes" in her commercial "Glosses."
On top of possibly being the voice behind a band, Jenner is also in the process of opening her brick-and-mortar makeup store to sell Kylie Cosmetics.
She's also launching her first collaboration with her sister Kourtney Kardashian, which consists of four lip products.
Meanwhile, I feel exhausted from sitting on a computer all day writing sentences for you lovely people to read. Where do I get motivation, Kylie?
Citations: Mystery solved! Kylie Jenner shows off new diamond necklace dedicated to Tyga as it is confirmed she is the singer of secretive band Terror Jr (DailyMail.com)