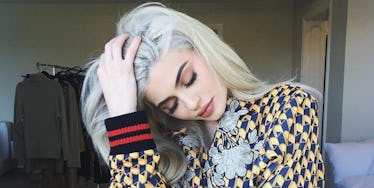 This Theory Proves Kylie Jenner Is Trolling Us All With A Secret Music Career
Instagram
Back in the day, Kylie wanted to be a singer.  In May, rumors began circulating that as the secret lead singer of Terror Jr., she had low-key accomplished that dream.
The original evidence, as compiled by Perez Hilton and Elite Daily's resident konspiracy theorist, Eitan Levine, was as follows:
1. Kylie used the group's debut single, "Three Strikes," to score a promotional video for her lip gloss line. Terror Jr. launched their web presence the same day Kylie's video premiered.
Not having a web presence in 2016 is like not having a social security number in the '70s: You effectively don't exist without one.
2. Kylie's Twitter is the only account the band follows.
3. No band members are specified on any of the band's social media accounts. The front woman is believed to be named "Lisa," aka the laziest fake name ever.
Everyone: "Wow, these are some eerie coincidences. Kylie, be honest. Is that your voice?" Kylie: "No." Everyone: "Really? Because it seems like that's you singing." Kylie: "It's not." Everyone: "So, who is it?" Kylie: "Kyli… sa" Everyone: "…" Kylie: "…" Everyone: "…" Kylie: "I mean Lisa."
Now, the group has announced via Twitter they'll be releasing their next single, "Bop City," on October 21.
A-YUP! TJ is releasing "Bop City" on Kim Kardashian West's birthday.
WE MAY BE SHEEP, KYLIE JENNER/TERROR JR./"LISA," BUT THE WOOL IS ON OUR BACKS, NOT OVER OUR EYES.
It makes total sense Kylie would release music under an alias. To release any creative work under her own name would mean subjecting it to intense prejudice and scrutiny.
Kylie's decision to keep her name off the official lineup, despite her involvement, gives Terror Jr. a better shot at carving a spot for themselves in the music industry without the looming stigma of the Kardashian/Jenner empire.
Although, Kylie's relationship to the band could be one of those Adam Brody/Death Cab for Cutie situations.
Adam was never in the band, but he loved them dearly and seemed to praise their brilliance in every early-aught teen mag interview he could.
Even his on-screen "OC" persona, Seth Cohen, was a vocal Death Cab fan.
Frankly, it doesn't matter whether Kylie ever confirms her involvement in the band. People will believe what they want to believe.
Kylie Jenner = Terror Jr.
Citations: Terror Jr., AKA Kylie Jenner's Rumored Music Alter Ego, Is Dropping A New Song… On Kim Kardashian's Birthday! (Perez Hilton)