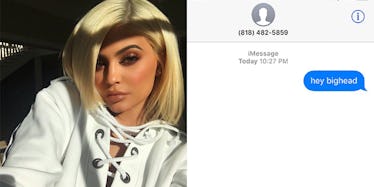 16 Savage Texts People Tried To Send Kylie Jenner After Rob Leaked Her Number
Instagram/Twitter
Last night, Rob Kardashian pulled a huge prank on Kylie Jenner by tweeting out her number on social media.
The "Rob & Chyna" star posted a status with Kylie's digits so the whole world could contact his little sis.
Of course, fans immediately hopped on the offer. People went crazy calling and texting the 19-year-old celeb.
Poor girl. It's unclear if the number was actually Kylie's (even though superfans claim it was), but regardless, someone out there has a broken phone from all the messages.
Below, check out some of the texts people sent Kylie Jenner right after Rob leaked her phone number.
Some of the messages started off simple. Just a "Hi, Kylie" from this guy.
Then people started putting in financial requests. Kylie, can you help a sister out?!
No, seriously, everyone wanted just one thing from Kylie Jenner: her wallet.
SEND MONEY! THE PEOPLE WANT YEEZYS, DAMMIT.
Just a couple million dollars, they're not asking for much.
Customers also called out the reality star for her disappointing lip kit products.
What a savage text for 3:37 in the morning.
And others just asked for small favors in return... like a million dollar bracelet, for instance. NBD.
A couple fans even sent links to their new songs and mixtapes. Check this shit out, Kylie. It's good stuff.
I love the internet.
Shit also hit the fan a few times when people threw shade at Kylie for stealing Blac Chyna's "baby father while underage."
Uh huh, you know they went there.
But mostly people just fucked around with her. Like this Twitter user.
And this chick, too.
Oops, sorry Kylie?!
But the greatest text messages of the night go to these two people who sent Kylie "hey bighead" and that's literally it.
I don't know what it means, but I love you both so much.
Hopefully Kylie gets her number changed ASAP and never messes with her big bro again.