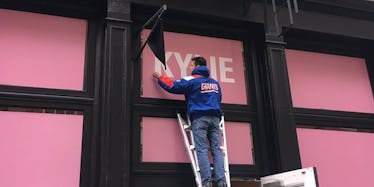 Kylie Jenner Shared The First Pic Of Her New NYC Store And Fans Are Losing It
Twitter
Following the success of her West Coast Kylie Cosmetics pop-up shop, Kylie Jenner is wasting no time in getting her New York City store up and running.
The 19-year-old star took to Twitter to tease her upcoming NYC-based pop-up shop, and fans can't wait any longer.
If you've been keeping up with Kylie on her journey to retail superstardom, you're well aware of the positive turnout at her first pop-up shop at the Westfield Topanga mall in Canoga Park, California back in December.
On display were limited edition Kylie Cosmetics products and personal videos of Jenner and boyfriend Tyga engaging in excessive PDA.
Most fans showed up for the beauty products, though!
About a month later in late January, Kylie took to Snapchat to hint at where her next pop-up shop would open next.
Some fans guessed London, others guessed Paris and some people actually guessed RIGHT by saying New York City.
A couple of weeks later, Kylie is finally ready to share a sneak peek of her upcoming NYC pop-up. Here's the first photo.
Fans are losing it. What'd you expect?!
Even fans who don't live in NYC are ready to go.
Some peeps are just being straight-up inappropriate...
And of course, we can't forget those who won't be able to make it NYC.
Kylie's got a lot to add to her to-do list...
Add London to that list, too.
Even Atlanta wants some love.
Chicago has spoken.
Toronto? Is that you I hear screaming for a Kylie pop-up shop?
All right, settle down, beauty bloggers and crazed Kylie fans around the world. It's clear she's got a lot of work to do in order to please all of you. With that said, patience is your best friend!
As of now, there's been no word on the exact opening date of Kylie's NYC pop-up shop. Stay tuned!