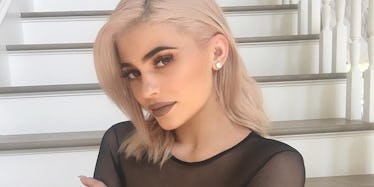 Kylie Jenner Shows Off Nipple Piercings In Promo Photos For New Pop-Up Shop
Kylie Jenner knows how to be provocative.
The 19-year-old reality TV star has been on an Instagram-posting spree that started last night, and it's obvious why she's getting a lot of attention for it.
This is no ordinary lingerie shoot.
Sure, it's good photo, and I suppose it might turn on anyone who's a fan of Kylie as a model, but neither of those reasons is why the teen star made so much noise on social media.
Just take a closer look at the photo.
Yep, there she is, promoting her upcoming pop-up show and just casually letting everyone know she has nipple piercings by showing 'em off through her sheer bra.
What a saleswoman.
And it seems safe to say some of her fans noticed, as she got plenty of reactions on Twitter.
Kylie posted the photos on her Instagram page as promotion for the first pop-up shop for her cosmetics line as well as other exclusive Kylie merchandise.
The store is set to open up at the Westfield Topanga mall in California in December for a limited time only.
Oh, and just in case you didn't know, her cosmetic products actually are a big deal.
Kylie is no stranger to having her LipKits sell out minutes after they've been released.
The products are so popular that after they're released, the people who purchase them end up reselling them on eBay for way more than the retail cost.
It's a frenzy that even academics have a tough time describing.
At least, that seemed to be the case with Columbia University professor Robert Phillips, who told Forbes,
It's this rare situation where you get a combination of scarcity and a status item. People are focused on it as something they need to have for some reason and would get pleasure out of buying it.
Whatever that "reason" is, it's working out for Kylie Jenner.