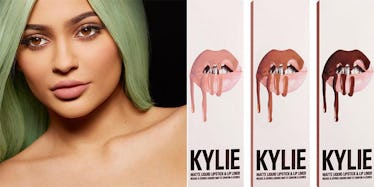 Kylie Jenner's Lip Kits Are Already On eBay And They're So F*cking Expensive
Instagram
If you still believe Kylie Jenner's lips are achievable without the help of a plastic surgeon, you're probably already familiar with the release of her lip kits.
The kits, each consisting of a matte liquid lipstick and lip liner, went live yesterday.
They sold out within 30 minutes of release.
To make things worse, the site crashed within several minutes of going live. At least each kit was going for a relatively reasonable $29, right?
If you're one of those ninjas who managed to score a kit, great. If you're a plebe like us, you have to go to the mecca of all resale, eBay.
Don't think you tricked the system, though. Many eBay listings for the three kits price them anywhere from $45 to $249.
The most popular color, a pink-nude by the name of Dolce K, is currently up for auction. The highest bid is listed as 10 thousand f*cking dollars.
You can blow your entire college tuition on Kylie's lipsticks, or you can go to MAC and get yourself some lip liner in "Spice" and lipstick in "Velvet Teddy."  Thank me later.
Here's what I don't get: Of all the reviews posted about the kit, not one sings its praises.
The only thing causing tweens to lose their sh*t over these kits is the fact that it's hawked by an 18-year-old girl who wears a ton of spandex and hair like Oscar the Grouch.
Then again, there's someone out there willing to shell out nearly an entire year's rent to purchase a liquid lipstick. So, Kylie is clearly doing something right.
Citations: You Won't Believe How Much Kylie Jenner's Sold-Out Lip Kit Is Going For on eBay (Cosmopolitan.com)