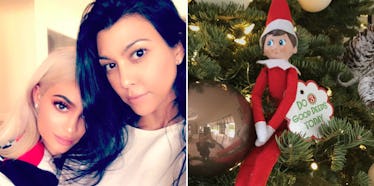 Kylie Jenner Challenged Kourtney K To An 'Elf War' And There's A Clear Winner
Instagram / Snapchat
Christmas is less than TWO WEEKS away… and we all know what that means.
Only 12 more days of savoring holiday cocktails, eating way too many gingerbread cookies to handle and witnessing Elf on the Shelf causing hardcore mischief like the festive boss he is.
There's really nothing quite like the exciting feeling that comes along with the lead-up to Christmas.
*casually turns back into a little kid once December 1 hits*
From tree shopping and decking the halls out in lights to going absolutely ham at Santacon with the squad, what's not to love about this time of year?
Our schedules are filled with festive plans, and we wouldn't have it any other way.
Like most Christmas fanatics, I simply cannot get enough of the holiday from start to finish. And when Christmas day comes to a close, one thing never fails: I'm left feeling sad AF every year.
WELL, until Christmas day, we'll keep partying the holiday season up like it's our job. Bring on the spiked eggnog, and keep it COMING.
We can always count on the Kardashians to bring out the festive vibes like no other.
For real though, can we just talk about this massive (and super chic) Christmas tree decked out in Kylie Lip Kit swag?
One thing's for sure: The Kardashians know what's UP with the gingerbread house game...
...Or shall I say, gingerbread ~mansion~?
Kylie's Elf on the Shelf is trying to climb up a mirror, probably getting ready to take a selfie.
Kourtney clapped back with Elf on the Shelf being up to no good in her Christmas tree.
She followed up with him chilling in a holiday dollhouse...
And THEN trying to steal the marshmallows.
I think there's a clear winner here.
Sorry, Kylie... but I think Kourtney's Elf on the Shelf took home the gold (and all of the marshmallows).