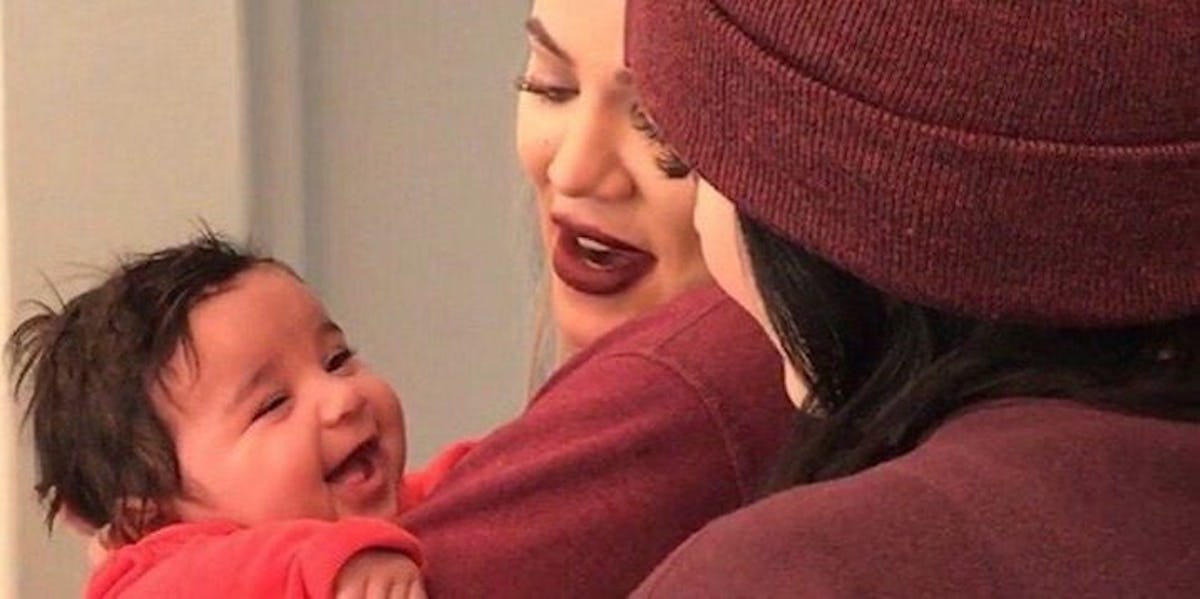 Khloé K's Sweet Photo With Baby Dream Proves Kylie Jenner Is Favorite Aunt
Instagram
We haven't seen much of Dream Kardashian, except for when she appears in Blac Chyna's Snapchats.
Considering the baby is related to Kylie Jenner and Khloé Kardashian, you'd think her little face would be all over social media.
I mean, the two take endless selfies of themselves... so where the hell is their 2-month-old niece?!
Well, on Tuesday, January 25, our prayers were answered.
Aunty KoKo added an adorable picture of her holding Dream Kardashian while Kylie Jenner smiled at the baby over her shoulder.
Look at this incredible pic! I CAN'T GET OVER HOW FREAKING CUTE IT IS!!!
Khloe captioned the photo, "Dream" and added a heart-eyed emoji.
People on Instagram seemed to love the "Revenge Body" star's photo.
Fans flooded her post with comments like, "She's so cute" and "Omggggg."
I don't know about you, but I think this pic might prove Kylie Jenner is Dream's favorite aunt. I mean, just look at that smile!
The only other pics I've seen of Dream have been of her, like, sleeping... or looking like she has to shit.
One user did point out the awkward relationship between Dream and Kylie because ya know, Kylie is dating Tyga... who is Blac Chyna's ex.
Cute, right? Oops!
Dream Kardashian has been through a lot in her two months of life.
She moved houses, was kidnapped by Blac Chyna (THROWBACKKKK) and has already tested every single filter on Snapchat.
Girl's a legend, TBH.
I mean, I know they have the same DNA, but it kind of looks like someone chopped off Rob's head and stuck it on a baby's body.
Ew, sorry for that visual.
Dream Kardashian is a cutie, though. LOOK AT HER LITTLE FACE!
ROB, LEMME BABYSIT YO' BABY.
Thanks!