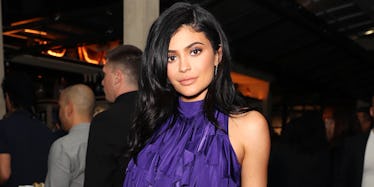 Kylie Jenner 'Had To Cut Off All Her Hair' And She Looks Totally Different
REX/Shutterstock
Kylie Jenner changes her hairstyle more times in a month than you do all year.
I get it. When you're a celebrity constantly in the public eye and you own a beauty company, these things just come naturally.
The 19-year-old star is rocking a new look just weeks after debuting her vibrant platinum blonde hair. Remember this?
If you thought that look was going to last any longer than a month, you were wrong.
Kylie Jenner recently took to Snapchat to tell her fans that she "had to cut off all" her hair.
That's a bit confusing since she also stated her hair was "still blonde." This doesn't look blonde to me.
That could mean the platinum blonde hair from earlier this month was a wig or just a really good dye job.
Maybe not. Kylie zoomed in on her blonde roots in this clip.
She's just so fucking mysterious. Apparently, this is the real Kylie, though.
She even confirmed it for her loyal fans.
In other news, Kylie Jenner recently announced she'd be taking her pop-up shop to New York City after a successful showing at the Westfield Topanga Mall in Canoga Park. The 19-year-old lip kit mogul and reality TV star just could not wait to tell her fans the news.
She took to Snapchat (where else?) to share the news with a post simply reading, "Coming soon NYC." This means fans will be able to purchase their favorite Kylie Cosmetics products in-person, shop for exclusive items and even get a chance to meet Kylie herself -- East Coast-style.
There's been no word on whether or not Kylie will have sensual videos of her and Tyga engaging in an over the top PDA session playing on flat screen TVs around the pop-up shop. I wouldn't count that out, though.
Citations: Kylie Jenner Just Cut Off A LOT Of Hair (Refinery 29)