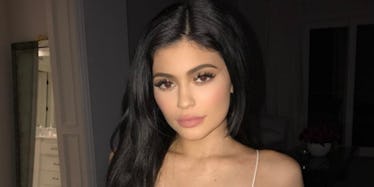 Kylie Jenner Had An Adorable Snuggle Sesh With A Sleepy Baby Dream On Snapchat
Dream Kardashian already makes my biological clock sound like a time bomb, but now Kylie Jenner has to go and speed that thing up over Snapchat?
Seriously, how cute is Kylie snuggling with her 3-month-old niece!?
With the caption "sleepy baby," Kylie sent out a pic of Rob Kardashian and Blac Chyna's daughter while she sucked on a pink pacifier.
Sleepy baby? Ugh, same. Always.
The 19-year-old reality TV star is a natural with babies, as she's always hanging out with boyfriend Tyga's son King.
Coincidentally, King's mother is also Blac Chyna, which leads to a very awkward family tree, but a loving one nonetheless.
Like the rest of her famous family, Kylie is no stranger to social media, and her fans have come to expect some transparency from the star. She opened up to VIOLET GREY in her cover story,
Social media is everything to me. It can also be a negative space for celebrities. But what would I do without it?
In fact, her social media presence isn't something to bat an eye at. The makeup mogul said,
Someone tweeted me today, and said, 'New artists shouldn't care for their song to be on the radio, they should really want it on Kylie's Snapchat.'
This is true. Every song she plays in her posts goes viral.
While we're unsure of the fate of Rob and Chyna, as they seem to be on-again-off-again before we know it, one thing is for certain: Dream has a lot of people in her life who are obsessed with her!
Regarding Blac Chyna and Rob's breakup, a source said,
Rob thinks it's the right decision. Chyna has disappeared for days at a time without communicating or providing any updates. This won't end well.
Chyna was also recently spotted without her engagement ring.
Hopefully, Rob and Chyna can co-parent Dream without any added drama.
Citations: Kylie Jenner Snuggles With Niece Dream on Snapchat -- See the Adorable Pic! (ET Online)