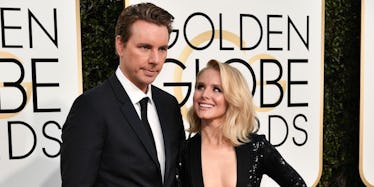 Kristen Bell Interviewing Dax Shepard Proves They're The Funniest Celeb Couple
REX/Shutterstock
Had Kristen Bell been around in the mid-1970s, "Dog Day Afternoon" would have run half as long and twice as peaceful. She's just that charming.
She's talk-Pacino-into-letting-a-bunch-of-hostages-go-without-making-a-deal charming, which is precisely why her interview for ET with husband Dax Shepard went so well.
Dax, who is currently promoting his film "CHIPS" with costar Michael Peña, sat down with the mother of his two children to talk about the film he wrote, directed and adapted from the television series that launched Erik Estrada's career and created jobs for countless motorcycles.
The "Parenthood" actor insisted Kristen, who referred to the film as "'When Harry Met Sally' with motorcycles," gave him his best review of the film thus far.
He said,
[Kristen] gave me the best compliment we've had, which is — she hates motorcycles, could care less. She saw the movie for the first time, she goes, 'I gotta tell you what. You pulled off a miracle. I actually cared about the motorcycle chases.'
Despite Kristen's support of the film, she almost didn't make the cut. She play's the ex-wife of Dax's character, but nearly lost the role to someone/anyone more heinous.
Dax told her,
Yeah, you are, on a cellular level, likable. It's nauseating, in fact. It's hard to stand next to you… and this role that you took on is a terrible, unlikable jerk of a woman. And I obviously did not think of you for that. And you read it and then you said, 'I will be playing this role.' And then I said, 'You are the boss.'
When it came time for Dax to direct Kristen, though, everything ran as smoothly as you'd expect it to for someone as flawless as ol' KB.
Dax explained,
There is no 'worst part' about directing you. The best part about directing you is that you're perfect on take one every time.
As for Michael, he didn't mind being the couple's third wheel. If anything, he preferred it.
He told Kristen,
Everything was good. I mean, we've done a bunch of movies, you know… and a lot of times, you just don't like doing that movie or those people. But this one was a great time. Forty-five days of, like, just fun.
Oh, Michael. You lucky boy.
Citations: EXCLUSIVE: Kristen Bell Interviews Dax Shepard Who Gushes Over Her: 'You Are on a Cellular Level Likeable' (ET)