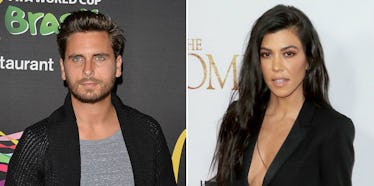 Kourtney K Spotted With Scott Disick For First Time Since His PDA-Filled Cannes Trip
Andrew H. Walker/Getty Images for McDonald's and Frederick M. Brown/Getty Images
It's been a long summer for Scott Disick.
Starting around the Cannes Festival, as well as around the time Kourtney Kardashian went public with 23-year-old boyfriend Younes Bendjima, Disick seemed to begin a downward spiral.
Known for his partying and scandalous ways, Disick was spotted engaging in PDA with a variety of super young women, including Justin Bieber's ex-girlfriend, Sofia Richie, and Bella Thorne.
Now, the mother of Scott's three children has been spotted out and about with Disick for the first time since his PDA tour.
The family of five seemed to be enjoying a family trip in Nantucket, where onlookers spotted them checking out the sports store, Haul Over, and grabbing lunch at an Oyster Bar called CRU.
An eyewitness told US Weekly,
They were walking really fast because they were trying not to get noticed. Scott was definitely walking ahead of Kourtney and the kids. They walked into a crowd but no one seemed to come up to them at all.
An additional onlooker added,
They were just walking around the island like any normal family, no cameras with them and enjoying their time together.
The pair has been working hard to solidify a co-parenting routine after famously calling it quits for good in 2015. Around that time, Disick attended a rehab facility in Miami.
Reportedly, he asked Kardashian to marry him as recently as February 2017, but she reportedly shrugged it off. NBD for Disick, who was spotted kissing two other women shortly after.
What a life.
For now, fans just hope the two can continue to find ways to come together as a family. Mason is somehow already 7 years old, which is insane to me, and their youngest baby Reign has already hit two.
At least we know that for the time being, they're all enjoying oysters together under a Nantucket sun.