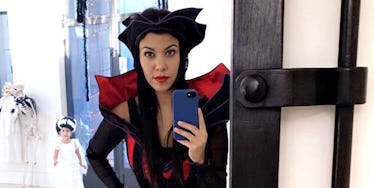 Kourtney Kardashian Threw A Halloween Party And You'll Want Penelope's Costume
Snapchat
Halloween is my favorite holiday of all time ever, and I imagine a Kardashian Halloween party would be nothing less than epic.
Kourtney Kardashian, who has been a Kardashian mama the longest, threw a small get together for all her mom friends, and it looked so adorable!
Kourtney's house legit looked like a Halloween Pinterest board! I am in Halloween heaven (or would it be hell?) right now.
But the cutest thing at that party had to be Kourtney and Scott's daughter, Penelope, who was dressed as the Bride of Frankenstein!
I don't even like children, but this photo makes me melt forreal forreal.
Kourtney, on the other hand, kept it sexy in a witch costume, proving you don't need to show a lot of skin to look hella hot.
Who did Kourtney choose to invite to the exclusive Monday night mom party?
She posted a few Snapchats with her pals for us to see.
Of course, she had to have her trusty beauty team: hairstylist Jen Atkin and makeup artist Joyce Bonelli.
As well as Kim Kardashian's assistant Steph Shep.
I want to work for a Kardashian (or be one, TBH) if it means getting invited to parties!
But on Instagram, Kourtney was a little more inclusive and put up a picture of her with all of her party guests!
Taylor Swift should take some notes because this is what squad goals really look like.
But let's be real. Once again, the true show stopper was definitely Penelope.
Even though Kourtney takes up 3/4 of this picture, Penelope in the background steals the show! So adorable.
Last year, Kourtney had a superhero themed Halloween with her kids, with the exception of her style icon of a niece, North West, who was a unicorn.
And in 2014, the mother-daughter duo had matching animal outfits, while Mason dressed as Darth Vader.
So cute.
Halloween is only six days away, fam. Let the festivities begin!
Citations: Kourtney Kardashian and daughter Penelope try on spooky Halloween costumes Read more: http://www.dailymail.co.uk/tvshowbiz/article-3869242/Kourtney-Kardashian-daughter-Penelope-try-spooky-Halloween-costumes.html#ixzz4O7NObCWn Follow us: @MailOnline on Twitter | DailyMail on Facebook (Daily Mail), Kourtney Kardashian Throws Epic Halloween Party, Penelope Shows Off Adorable Costume: Pics! (Entertainment Tonight)