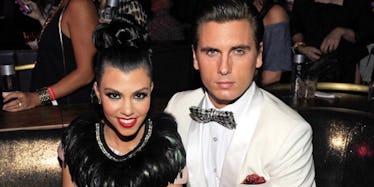 Kourtney Kardashian Low-Key Shaded Scott Disick On Father's Day
Ethan Miller/Getty Images for AG Adriano Goldschmied
Season 13 of Keeping Up With the Kardashians may have just wrapped, but drama is still stirring. On Sunday, a little Father's Day shade toward Scott Disick was thrown by Kourtney Kardashian on Instagram.
Kourtney dedicated a sweet post to a dad in her life, but it wasn't Scott. While the post about her late father, Robert Kardashian, gave us all the feels, Kourt remained curiously quiet about Disick.
This comes as a surprise because in previous years, Kourtney Kardashian has always shown a little love to the father of her children. In 2013, she even called him her "heart and soul" in a Father's Day tribute.
Tensions have been seriously high with the Kardashian-Disicks. First, while on family vacay in Costa Rica, Scott flew a girl down to stay with him in the hotel which caused a major confrontation.
Then, there was his infamous "Cannes revenge tour" where Scott was seen getting cozy with nine different women, including Bella Thorne, Chantel Jeffries, and blogger Maggie Petrova. We can understand why Kourtney is a little peeved.
It is unclear whether this Father's Day diss was done intentionally or was a mere oversight. It doesn't appear that Scott spent the day with Kourtney. According to Snapchat, Kourtney and Kylie spent the day in bikinis with friends at home.
This was not the only shade thrown in the Kardashian clan on Sunday. Kris Jenner posted about seemingly every dad she's ever met, except for one.
Kris posted sweet photos and thoughtful sentiments for her late husband, Robert Kardashian, son-in-law Kanye West, Scott Disick, and son Rob Kardashian, but left out Caitlyn Jenner (and Bruce for that matter).
She captioned the post,
To all the fathers out there who love unconditionally, who put their children first above all, we love you!! To my son, Rob, on your first Father's Day... I am so so proud of you!! I've watched you grow into the most loving, caring father to our precious angel, Dream. Your father would be so proud of you. I love you and I'm proud of you Kanye and Scott. You amaze me every single day and all of my grandchildren are so very blessed to have all of you as fathers. To all the amazing dads out there, Happy Father's Day!!! #FathersDay
Caitlyn's memoir, The Secrets of My Life, puts Kris in some negative light, and supposedly Kris has cut all ties with her former spouse.
In a recent episode of Keeping Up With the Kardashians, Kris tells Kim and Khloé,
Everything she says is all made up. Why does everything have to be that Kris is such a b*tch and an a**hole?
Watch the full clip:
Those two may not be on speaking terms, but Kendall and Kylie did spend the afternoon with Caitlyn at a car show on Rodeo Drive. How fab!
Caitlyn captioned the post,
Good day at the Father's Day car show on Rodeo Drive with my girls. Happy Father's Day to all the dads out there.
You know who we can rely on for some "aww" moments? Kimye! The highlight of my Father's Day was scrolling through all the sweet pictures of Kanye, North, and Saint (sorry, dad). Let's take a moment to appreciate the lack of drama surrounding Kanye West right now. #Blessed
Whether you love or hate them, we have to appreciate the men of KUWTK. Can't live with them, can't throw shade without them!