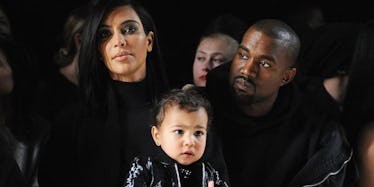 We Reportedly Know When Kim Kardashian's Surrogate Will Have Her Third Child
Craig Barritt/Getty Images
On June 21, it was announced that Kim Kardashian and Kanye West reportedly hired a surrogate to carry their third child. Kimye fans were excited to hear this news, but now the question on everyone's minds is when is Kim Kardashian's reported surrogate due? According to Us Weekly, Kim Kardashian's surrogate is three months pregnant which means fans can expect her to have the baby in January 2018.
Elite Daily reached out to Kim Kardashian and Kanye West's teams for comment, but did not hear back by time of publication.
As we all well know, Kim and Kanye have two children together: North, 4, and Saint, 1. Kardashian was very open throughout both of her pregnancies about her placenta accreta, a condition that makes her pregnancies very high-risk.
Apparently, a third pregnancy could be life-threatening for the reality star, so a surrogate is a healthy move for the couple. They have reportedly paid over $68,000 to the surrogacy agency and will allegedly be paying the surrogate mother 10 installments of $4,500, totaling $45,000, according to TMZ.
When Kardashian was pregnant with Saint, she wrote about the struggles of pregnancy on her app. She said,
My advice to anyone going through this or anything difficult during pregnancy is that all you can do is be hopeful, get the best information out there and just be prepared. The more information you have, the better you know how to handle it!
The surrogate mother (whose identity is remaining anonymous) is a San Diego mom in her late 20s who has served as a surrogate before, in addition to having her own family. She was reportedly referred to the Wests by an agency. Kardashian and West will reportedly pay an additional $5,000 for any additional children.
On top of the $45,000 the mother will be receiving and the $5,000 she will receive if there is more than one baby, Kardashian and West already paid the agency a $68,850 deposit. Kardashian has been saying for years that she wants to have lots of children since she grew up with so many siblings.
Back in 2014, Kardashian told Ellen DeGeneres, "I have so many siblings and I love it. They're my best friends and I would love that for my kids."
Kimye The Third will be here sooner than we thought!