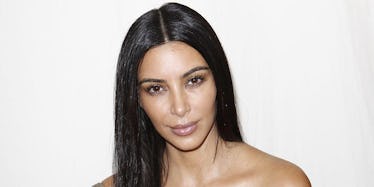 Kim K Is Suing A Media Outlet For Accusing Her Of Staging Her Own Robbery
REX/Shutterstock
Kim Kardashian is allegedly suing a website for claiming to have evidence that her recent robbery was a fraud.
According to a report from TMZ, the 35-year-old reality star filed a federal lawsuit against the gossip website MediaTakeOut.com.
TMZ reports the suit is regarding several posts from Media Take Out, one of which claimed to have evidence that Kim staged her robbery and attack from a week ago.
In the suite, Kim's lawyers reportedly claimed the website used irrelevant social media accounts as the sources for the accusation of fraud.
Another post from the website allegedly speculated French authorities suspected Kim was lying to them.
A third post heavily implied Kim's filing of an insurance claim meant she faked the robbery and committed a federal crime.
TMZ reports Kim's legal team reached out to the site to have it remove the posts and apologize, but after receiving no response, went forward with the suit.
However, two of these posts can seemingly be found in a cached Google search, but upon clicking on them a "Removed" notice on the Media Take Out website appears.
And one of the posts can be found but, interestingly, links back to the TMZ story reporting on Kim's stolen ring.
So perhaps the threat of a Kim K lawsuit was too real for Media Take Out.
It looks like Kim will not be taking accusations of fraud lightly.
Citations: KIM KARDASHIAN ROBBERY GOES ON THE ATTACK! Sues Over Claims She Lied (TMZ)