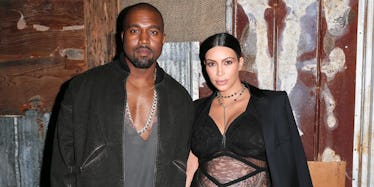 Kim K Is Re-Releasing Her Selfie Book To Include Viral Naked Pregnancy Pic
REX/Shutterstock
Back in 2015, Kim Kardashian blessed the world with a coffee table photo book filled with her selfies, which was fittingly titled "Selfish."
Now, she will be re-releasing the book with some additional content.
We wonder if she will be including this picture below, which may be her most risqué selfie yet.
Pregnant nude selfie alert!
The new edition of the 35-year-old reality star's book will be released this Tuesday, and it may or may not include the picture of Kim K posing totally nude while she was pregnant with her son Saint West.
She originally posted the image to shut down the haters who believed she was using a surrogate instead of bearing the child herself.
You know how people love to make conspiracy theories about the Kardashians.
She explained that sometimes she is bigger because she eats, or she looks smaller because she is photographed before she has a meal.
She also explained that every pregnancy is different, and if she was actually using a surrogate she would not have been documenting it the way she was.
Kim K has said,
Whatever the case may be I'm grateful to God for this miracle & no matter what rumors or comments you throw my way this time they truly don't affect me!
The cover of the new edition of "Selfish" is different as well.
The original cover featured Kim in a nude sports bra showing off her cleavage while wet.
The new cover shows the reality star in a brown sleeveless shirt rocking a duck face.
The originally 448-page book will feature two new chapters.
The first edition of the book sold 125,000 copies in the first three months on shelves and included photos Kim and her sisters had taken over nine years.
It was composed of pictures seen on the family's social media and never-before-seen shots that were not publicly released before the book.
Citations: Kim Kardashian re-releasing Selfish book with new selfies including THAT completely NAKED pregnant snap (Daily Mail)