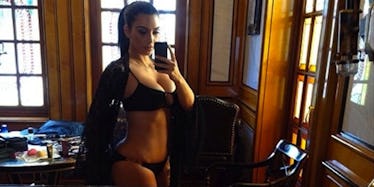 Kim Kardashian Allegedly Pays Someone $100,000 To Retouch Her Selfies
Instagram
Take this one with a grain of salt, but OK! magazine is reporting Kim Kardashian hired a Photoshop assistant to touch up her selfies before they are posted to Instagram.
According to the report, Kardashian pays this assistant $100,000 to do the job.
A source close to OK! reportedly said,
Kim used to ask a friend to fix up photos, but it would take hours. She finally decided to hire a pro who can be on call 24/7.
It's not crazy to think Kim would pay someone an exorbitant amount of money to make her look better on social media. She is notoriously obsessed with her image.
But, one of Kim's representatives told "E! News" the claim was "absolutely false."
Celebs such as Beyoncé have been accused of doctoring their photos in the past, so this report isn't as outlandish as it might seem.
For now, let's call this one speculative at best.
Citations: Kim Kardashian Pays A Photoshop Assistant So Her Instagram Selfies Look Flawless (OK Magazine)