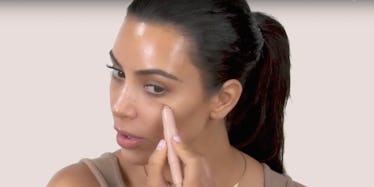 Kim Kardashian Is Dropping A New Powder Contour Kit And Fans Are Freaking Out
YouTube
New day, new Kardashian product to obsess over. Kim has had our hearts racing and our cheekbones a-poppin' ever since she released her cream contour kits earlier this summer. Just one little palette with a double-sided brush was all it took to rake in the money for the queen of reality TV and change our lives forever. Now, she's releasing a powder palette and it's almost too much for the world to take. Fans have loads of questions and mainly are wondering how to buy Kim Kardashian's powder contour kits.
Duh.
While Kardashian hasn't released specifics about sales yet, we can assume she will have a dramatic build up to the release date and then we'll all have to log onto her website at the same time, refresh our browsers, and pray until we know if all of our money went out of our bank accounts and into her fancy purse.
Fans first became hip to the product details when Kardashian posted a series of videos of her makeup drawer. Inside was the usual suspects – Hoola bronzer, Kylie lip kits, etc. – but keen eyes noticed one product that was both familiar and unfamiliar to them.
Inside Kim's drawer was a double-sided brush, much like her cream contour kit brush, but this time it had fluffy tips. It's on the right side next to the white MAC puff in the image below.
DO YOU GUYS SEE IT?!
After the cat was out of the makeup drawer, or something, Kim posted a video teasing the packaging of the new powder products and revealed a massive three box palette.
Fans are obviously losing it.
It's so beautiful.
Based on the pricing of her cream contour kit, we can guess a palette will go for around $50 bucks, or five Chipotle burrito bowls, depending on your preferred form of currency.
For now, we are standing by with our laptops ready. Kim, we out here, girl.