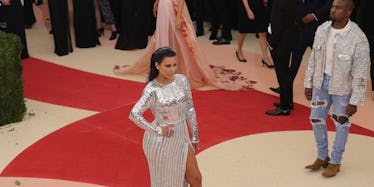 Kim Kardashian For Once Doesn't Make A Scene At The Met Gala
Getty Images
Though Kanye West would argue that Kanye West is one of the most influential designers today, the rapper-turned-fashionisto doesn't seem to mind that his wife, Kim Kardashian, headed to the 2017 Met Gala — the mother of all fashion events — solo.
Since 2013, Kimye has graced us with their presence at the annual glamorous fundraiser. Remember this floral number Kim wore four years back?
It seems almost unnatural for the two to part ways on such a night, considering their history at this event, yet here's Kim, rockin' her Vivienne Westwood dress all by her lonesome.
And let's just say this is way more tame than what we're use to seeing on the reality starlet.
This year, the event is honoring Rei Kawakubo/Comme des Garçons, Queen of the avant-garde aesthetic. And who better to promote out-of-this-world looks than the out-of-this-world Kim Kardashian?
However, her dress definitely doesn't channel Kawakubo's unusual vibe the way we thought it would.
The designer admitted to the BBC that she doesn't really have a "normal" direction for her clothes.
She said,
What I've only ever been interested in are clothes that one has never seen before, that are completely new and how in what way they can be expressed. Is that called fashion? I don't know the answer.
It sounded like this year's event would have been the perfect opportunity for Kim to do what she does best — make a statement (even if she is alone). However, it seems she chose not to.
But she certainly did make a splash in the few weeks leading up to the Met Gala.
I mean, just take a look at the recent "Keeping Up With The Kardashians" clip where she finds Scott Disick's hookup in the bathroom and has some choice words for the woman.
And then she appeared on Ellen talking about the infamous Paris robbery, saying it was "meant to happen."
So yeah, girl doesn't really need anyone to help her stand out, so I guess it's OK she's taking this one for the Kimye team.
A source told People that Kanye is "still very much enjoying his time off from public events" and "staying back in LA with their kids."
Alright Kimmy K, taking the role of quiet mom, aren't you now?