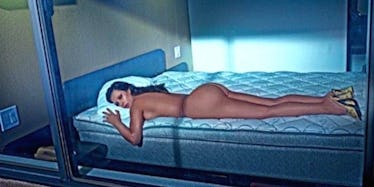 Kim Kardashian Is Blowing Up Social Media With Pictures Of Her Ass
Twitter
We recently alerted you of the existence of two leaked photos from Kim Kardashian's LOVE magazine photo spread.
Now, Kim decided to treat the world to some more of these photos, prior to the release of the new issue of LOVE.
Kim has been sharing these photos on Twitter today, and they are racy.
None of them are full frontal like the one that made its way to the Web earlier this week, but there are definitely some butts present in these pics.
I'm going to stop rambling now so you can ogle her for yourself.
Butts up:
Nothing butt Prada pic.twitter.com/deNXx0UNc1 — Kim Kardashian West (@KimKardashian) February 6, 2015
Hangin' by the pool:
Hope floats pic.twitter.com/3oRVcjefLk — Kim Kardashian West (@KimKardashian) February 6, 2015
Stretching is vital:
Casual stretch pic.twitter.com/tZMH4k1pIC — Kim Kardashian West (@KimKardashian) February 6, 2015
Naptime:
Locked inside a bedroom at motel 6 blasting Madonna Erotica on repeat &rolling around in a Prada bodysuit at 2am pic.twitter.com/n1o78sZ0RJ — Kim Kardashian West (@KimKardashian) February 6, 2015
Relaxing poolside:
Me & bae by the pool #MotelLife @TheLoveMagazine @stevenkleinstudio @KEGrand @Prada pic.twitter.com/iArPZJ2uc2 — Kim Kardashian West (@KimKardashian) February 6, 2015