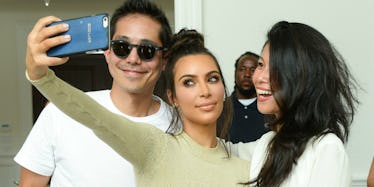 Kim Kardashian Could Lose Up To $1 Million A Month For Social Media Silence
REX/Shutterstock
In case you somehow missed it, Kim Kardashian was recently the victim of a terrifying armed robbery.
She was held at gunpoint and had $10 million of jewels stolen in Paris earlier this week.
It was truly a horrifying experience, one that Kim is still dealing with along with her husband Kanye West.
There are plenty of theories as to what happened and who is to blame.
We are just thankful that the mother of two is okay.
Of course, this has made Kim Kardashian seek a bit of shelter when it comes to the public eye, which includes being absent from her normally very active social media accounts.
Some believe that Kim Kardashian's social media posts lead to the robbery after publicly showing off her wealth.
This is a bullshit excuse. The only reason she was robbed was because people are trash, but anyway...
Celebrity financial adviser Samuel Rad recently spoke to People about how her absence from social media will affect Kim's money-earning potential.
First, he spoke just how much Kim earns from those selfies,
[Kim's] overall brand is generating at least $1 million a month through just general posts, not including anything that's specifically being contracted with companies.
He believes that Kim could stand to lose about $1 million a month by not posting -- but that doesn't take into account how much she could earn once she returns to social media.
I think what's going to happen is the first post she's going to put up after not having posted for [a while], it's going to get so many more followers and hits. I think that it might actually end up helping her. Especially if Kim positions [her return to social media] correctly… I think it could be a really big moneymaker for her brand. People are hoping to hear from her. If Kim positions herself correctly, she can have a real blockbuster media score.
Momager Kris Jenner probably likes the sound of that.
Until then, we will anxiously await Kim's return.
Citations: Kim Kardashian Faces Losing $1 Million A Month By Leaving Social Media… But Here's How Her Return Could Be A 'Really Big Moneymaker' (Perez Hilton)