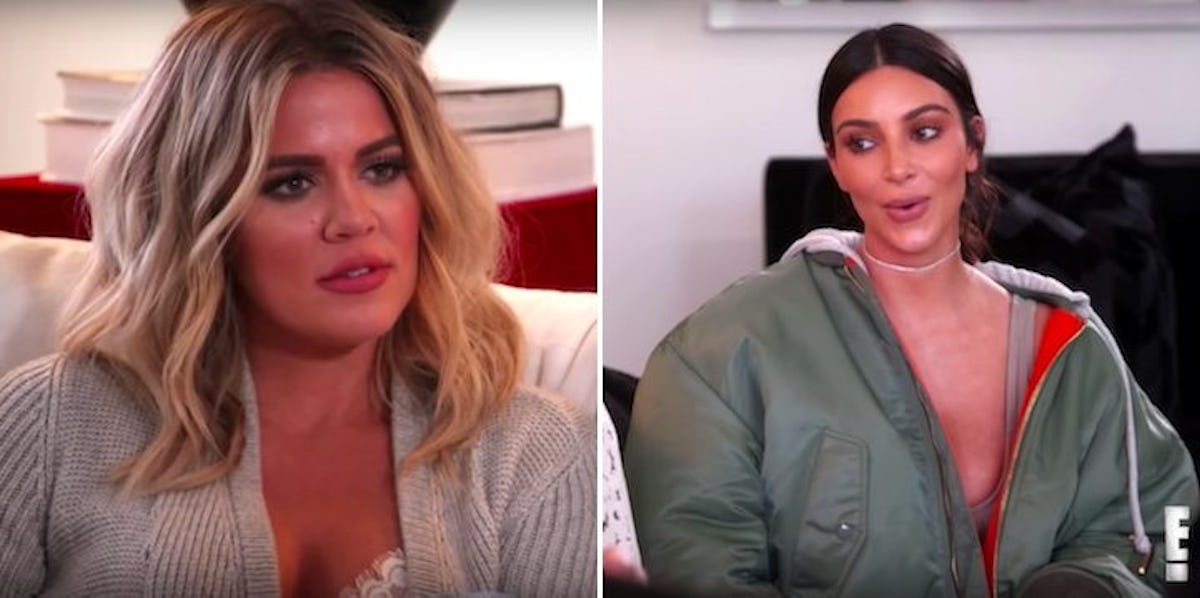 Kim Kardashian Accuses Khloé Of Keeping Her BF A Secret In Deleted 'KUWTK' Clip
E!
Uhhhhhhh, you got some 'SPLAINING to do, Khloé.
This past Sunday, "Keeping up With The Kardashians" had its season 13 premier. The truth is, this episode was more filler and set-up than anything else.
With Kim's robbery coming up and Kanye's meltdown about to happen, "KUWTK" producers used this premier to paint a larger picture before we dive into that GOOD GOOD "KUWTK" content we're all waiting for.
We did, however, get to see the birth of Khloé's relationship with Cleveland Cavs star Tristan Thompson. And while most families would be all cool with new love, Kim *claps* was *claps* not *claps* having *claps* any *claps* of *claps* it *claps*.
You can check out bonus footage from E! of Kim confronting Khloé here:
In the clip, Kim is pissed because she thinks Khloé was purposely keeping her in the dark about Tristan. While Kim does admit she isn't exactly the best person to tell secrets to, she still thinks she should have been told.
During the episode itself, Kim made the comment,
I have to find out about this by seeing pictures of you together online... I want to know who you're hooking up with!
WHERE IS THE LOVE?!?!
In the the end of the clip, the two reconcile with Kim getting Khloé to officially confirm to her that she and Tristan are a thing.
That didn't stop her from taking a moment to take a quick dig at Khloé's new boyf. She later made a comment saying,
He's a little young! But I am still so excited to tell Jonathan about this...
I will say that North West actually is the star of the above clip, though.
Before the fight happened, Kim told Khloé that when she told North Kanye was a boy, she proudly responded,
He's a man. Grown up.
SHUT UP, KIM, AND JUZ GIVE US DAT JUICE!