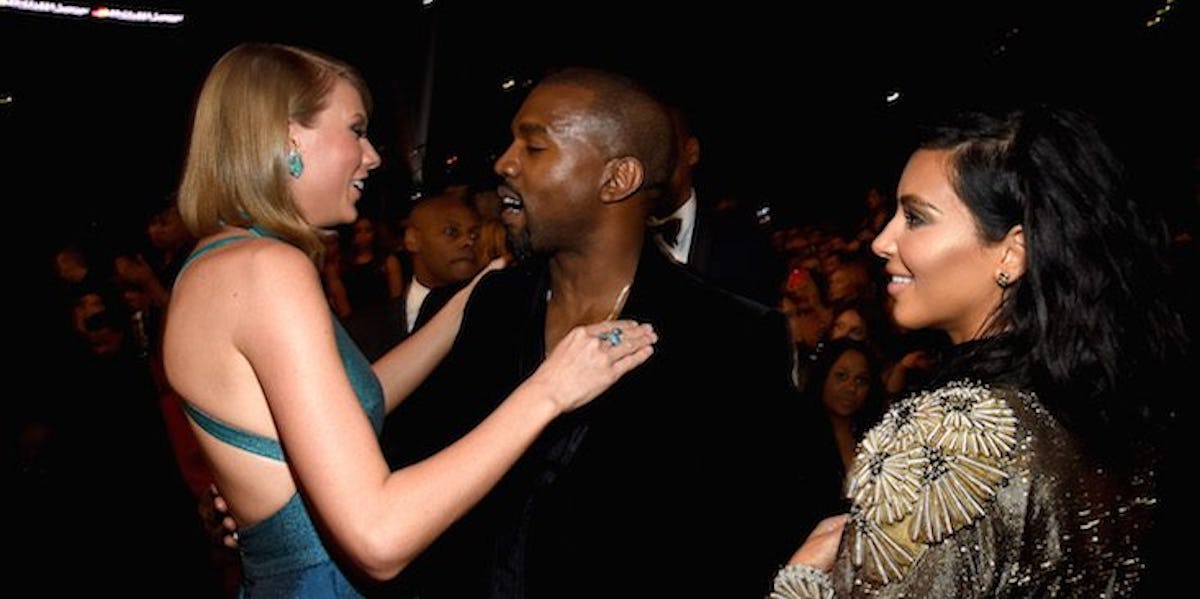 How To Be Kim K, Kanye West, & Taylor Swift For The Ultimate Halloween Group Costume
Larry Busacca/Getty Images for NARAS
If you're short on group Halloween costume ideas, look no further than a hot celebrity feud for inspo. One beef that's had its fair share of ups and downs, reconciliation and revenge (well, lyrically, anyway) is between Taylor Swift, Kanye West, and Kim Kardashian. Check out these Taylor Swift, Kim Kardashian, and Kanye West group costume ideas and grab a couple of friends!
But first, a little backstory. Let's kick it all the way back to 2009 and really what started it all. Who could forget the moment when 19-year-old Swift took to the stage to accept her award for Best Female Video ("You Belong with Me") at the Video Music Awards, only to have West interrupt and state, "Yo, Taylor, I'm really happy for you and I'mma let you finish, but Beyoncé had one of the best videos of all time. One of the best videos of all time!"
(Fun fact: Kardashian and West didn't start dating until 2012, but she was at the Grammys that year as an E! News red carpet host.)
Now that we've had that fun trip down Memory Lane, check out some of these fun ideas that bring Kardashian, West, and Swift together in a group Halloween costume that you can pull together with a fairly short turnaround time. Most of the pieces are inexpensive enough and if anything is too spendy, hit up your local thrift store to see if anything there fits the bill. Some of those Kim K looks will be tricky to replicate, but I have faith in you.
1. 2015 Grammys
High-Low Style Dress in Jewel Aqua Color, $80, Amazon
Gold Satin Bathrobe, $20, Amazon
Velvet Blazer, $41, Amazon
This is probably the most love that Swift, West, and Kardashian have ever had in their rocky relationship, as the three were photographed hugging each other and smiling together at the 2015 Grammys. Recreating Kim K's sparkly dress may be a challenge, but a shiny gold bathrobe paired with a skinny belt should do the job just fine. Bonus points if you embellish with the shoulder and cuff accents. Detail alert: note West's velvet jacket with no shirt underneath. Do that.
2. 2015 BRIT Awards
Slim-Fitting Black Dress, $17, Amazon
Black Cut-out Long Sleeve Bodysuit, $11, Amazon
Men's Black Shirt, $17, Amazon
Things all looked good for the trio at the 2015 BRIT Awards, as Kim K posted a pic on Twitter of this epic hang, writing: "Britt Awards!!! @TaylorSwift @samsmithworld." Look for a slim silhouette dress to replicate Swift's look and a cut-out bodysuit or top paired with paints to recreate Kardashian's jumpsuit. West is an easy match here, with just a black shirt and pants (maybe add those fingerless gloves though!).
3. 2015 VMAs
Houndstooth Top, $58, Amazon
Houndstooth Joggers, $50, Cerise Fashion
Brown Lace-Up Bodysuit, $15, Amazon
Brown T-Shirt, $18, Amazon
It looked like all the beef was smoothed over when Swift presented West with the Michael Jackson Video Vanguard Award at the 2015 VMAs, as Kardashian looked on. As we would find out soon enough, their feud would continue, but it's nice to think of them in happier times. West's look is as drab as ever and oh-so-easy to recreate, while Swift's sparkly houndstooth crop top/joggers might be tough to match. Kardashian's lace-up dress with the giant pockets could be a tough find, but a lace-up bodysuit paired with a skirt is a close match. Bonus prop: VMAs trophy.
4. West's "Famous" Video
Nudist Jumpsuit, $38, Amazon
Shots fired. West was in rare form with some nasty lyrics referencing Swift in his song "Famous," including: "I feel like me and Taylor might still have sex/Why? I made that b*tch famous." The video included a naked lookalike of Swift, alongside him and Kardashian in bed. Oh hell no. As for the costume, well, there's not much to it! Snag a hilarious nudist jumpsuit or just go all-in and strip down.
Which of these Kardashian/West/Swift looks fits your squad?
Check out the entire Gen Why series and other videos on Facebook and the Bustle app across Apple TV, Roku, and Amazon Fire TV.