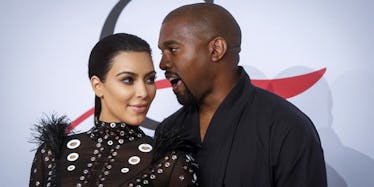 Someone Finally Figured Out Where Kim K And Kanye West Are In Those Artsy Photos
REUTERS
Everyone's really happy to have Kim Kardashian back on social media, obviously.
It's been pretty boring on Instagram without Kim giving us those snapshots into her rich and glamorous life with Kanye West.
Except... wait. Kim K's first pictures on Insta after her hiatus were not glam shots of her getting out of SUVs in fur coats.
Instead they were pictures of the Kardashian-West family hanging out in what looked like the home of a '90s middle class family.
Look at that chipping paint on the wall.
Look at those cupboards behind Kanye.
This is certainly not the billion-dollar Kardashian mansion we see on "Keeping Up with the Kardashians."
Which led us all to the question: Where the heck are the Kardashian-Wests?
Did they just... invade some average citizen's home so they could see what it was like to slum it as a plebe?
Well, thanks to Kardashian scholar and BuzzFeed writer Sylvia Obell, we have our answers.
With a little help from her Twitter followers, she figured out Kim and Kanye were not, as some people thought, hanging out with relatives in Oklahoma City.
Nor were they "playing pretend poor," as many fans accused them of doing.
Instead they were crashing at their friend and Def Jam founder Rick Rubin's studio in Malibu.
The proof lies in this BBC video tour from 2014 of the producer's Shangri-La Studios in Malibu.
The cupboards in the kitchen match the ones behind Kanye eating.
The paneled doors match the ones North is reaching for.
I guess Rick hasn't bothered to paint the place since this tour video.
And this Instagram tagged at the Malibu studio clearly shows the same set of steps the Kardashian-West family is standing on.
It's amazing what a good Insta filter can do!
In conclusion: Kim and Kanye were not actually slumming it at all. They were hanging out at one of the most respected recording studios in the country.
So... does this mean new music is coming? DOES IT?
Citations: A Very Serious Investigation Into Where The Hell Kim And Kanye Are (BuzzFeed)